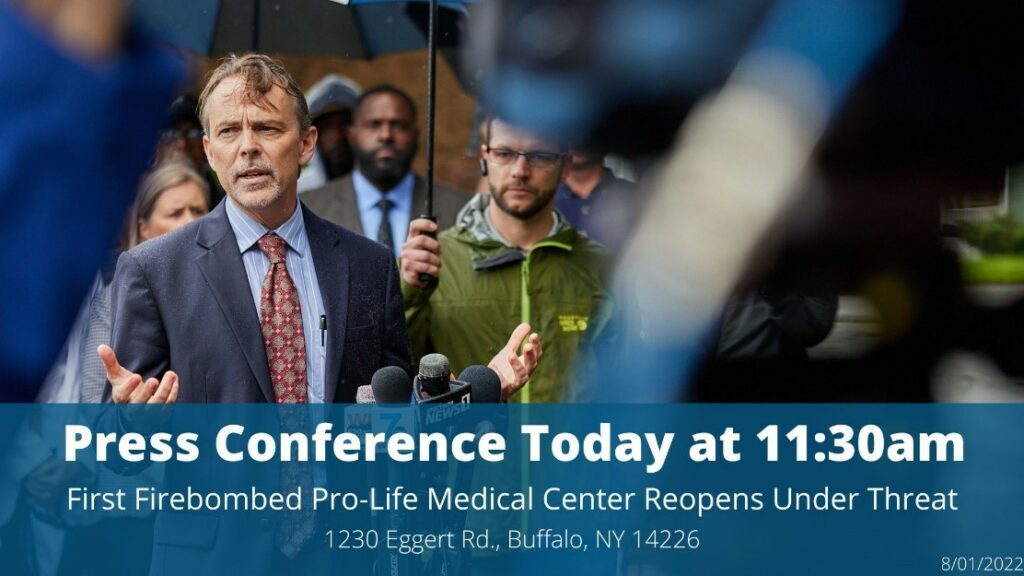 On June 7th, CompassCare's pro-life medical office in Buffalo was the victim of a brutal arson attack, perpetrated by pro-abortion terrorist group, Jane's Revenge. CompassCare reopened to serve patients the very next day in an undisclosed location. Now despite increased threats by pro-abortion terrorists and attacks by pro-abortion politicians, CompassCare became the first firebombed pro-life medical office to rebuild and reopen—in just 52 days. CompassCare is holding a press conference and ribbon cutting ceremony at 11:30am today, August 1st at 1230 Eggert Rd, Buffalo, NY. Ground will also be broken to expand the facility to serve 30% more patients.
At the press conference, CompassCare CEO, Rev. Jim Harden, is expected to give an update on the situation and deliver a message to the pro-abortion terrorist group Jane's Revenge. Federal, state, and local elected officials will be present and Congresswoman Claudia Tenney (NY-22) will announce new federal legislation to protect pro-life Pregnancy Resource Centers by increasing penalties against the criminals who attack them. In addition, the Amherst Police Department has provided CompassCare the first official statement on the status of the investigation into the attack—potentially the first public statement from any law enforcement agency nationwide on the 44 attacks against pro-life pregnancy centers. The statement will be read by Rev. Harden at the press conference.
CompassCare has extended an olive branch to outspoken adversaries of pro-life pregnancy centers, NY Governor Kathy Hochul and Attorney General Letitia James to meet the people and experience firsthand how the organization provides for the unmet health and resource needs of women considering abortion. So far, neither Governor Hochul nor Letitia James have responded.
Rev. Harden says, "The Church through CompassCare rebuilt our firebombed medical office in a miraculous 52 days under threat of additional physical and political attacks. These attacks must stop. But, even if they don't, we will continue to be every woman's Good Samaritan, no matter what, because that is what Jesus did for us."
View the livestream of the press conference:
---
Help CompassCare expand to reach and serve even more women seriously considering abortion in NY and across the United States.