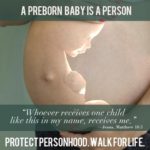 Posted on May 2, 2017 by Daniel Tomlinson in Abortion, Blog Posts, Walk for Life.

Abortion is down 42% in Monroe County! We have reason to celebrate. But you and I don't just want fewer abortions, we want ZERO abortions in our community. Abortion is down because of the perseverance of the people of God to take up the cause of the most vulnerable among us. The people of God […]

Continue Reading... No Comments.