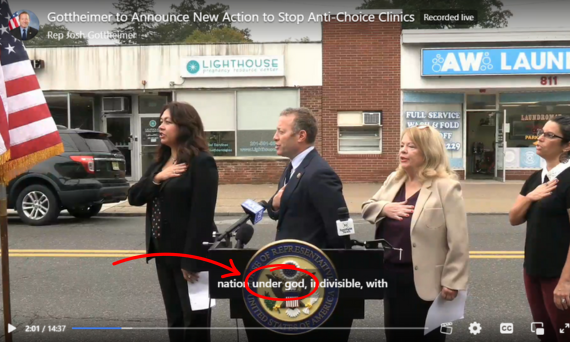 For Immediate Release: October 24, 2023
---
On October 6, Rep. Josh Gottheimer (D-NJ) hosted a press conference in front of the pro-life Lighthouse Pregnancy Resource Center in Hackensack, NJ. He criticized pro-life pregnancy centers for their Evangelical Christian faith, calling them "brainwashing cult clinics." Gottheimer was flanked by two pro-abortion Bergen County Commissioners, Germaine Ortiz and Mary Amoroso, who echoed Gottheimer's sentiments. He stated his goal was to: "Shut down sham clinics, hoax clinics like this one," motioning to the Lighthouse Pregnancy Center behind him with the organization's sign prominently displayed over his right shoulder.
Pro-life strategist, Rev. Jim Harden, who forecasted 2022 Republican midterm losses as well as a rise in political strikes against the abortion industry's competition in 2023, now believes the actions of Rep. Gottheimer and other pro-abortion political actors are highly illegal. These could result in criminal indictments and civil claims for slander, liable violations of the FACE Act and the third KKK Act of 1871, U.S. Code 42 section 1985.
Rev. Harden insists that pro-abortion politicians have over-played their hand, openly colluding and conspiring to deprive Christian pro-life people of their rights while maliciously engaging in slander and libel with the express purpose of shutting down constitutionally protected pro-life activity.
Gottheimer published a press release on his tax-payer-funded congressional website, articulating his goal to shut down Christian pro-life pregnancy centers, containing his same slanderous remarks. Gottheimer said, "Today marks my first stop at one of the many healthcare hoax centers around the state—women need to know they exist, and we must shut them down."
A list of unsubstantiated allegations published on Gottheimer's congressional website, reiterated during his press conference, are designed to disparage the reputation of pro-life groups, discouraging women from availing themselves of their free services. Christian pro-life pregnancy centers in New Jersey have never been accused, tried, or convicted of committing any crime, so the vitriol seems misplaced—especially considering the abortion industry in New York, just a few blocks from where Gottheimer was standing, literally killed and injured hundreds of women. Rev. Harden rebuts, "If Gottheimer cared enough to tour the Christian group's facility behind him he would realize that pro-life pregnancy centers provide everything but abortion for free while abortionists do nothing but abortion for a fee."
Gottheimer has joined a pattern of pro-abortion political attacks aimed at destroying the abortion industry's only competition, Christian pro-life pregnancy centers. Rev. Harden contextualizes these recent events, stating: "In the last several months America has witnessed pro-abortion politicians in abortion-hub states attacking peaceful Christian pro-lifers, engaging in what I have called 'political transference,' accusing pro-life people of the crimes the abortion industry is perpetrating against women and children every day. Their rhetoric is a smokescreen intended to throw the voting public off the criminal scent of a billion-dollar abortion empire that gets people like Gottheimer re-elected. Is it any coincidence that it is happening ahead of the 2024 Presidential Election?"
Examples of the pattern of actions targeting pro-life pregnancy centers include California, Illinois, Colorado, Vermont, Massachusetts, New York, and now New Jersey with Gottheimer's Johnny-come-lately propaganda stunt. He is using this as a venal, self-promoting opportunity to ride the coattails of Sen. Elizabeth Warren's "Stop Anti-abortion Disinformation Act." Warren insisted that all Christian pro-life pregnancy centers be shut down claiming they "torture" women. Her statements came while Jane's Revenge, the pro-abortion Antifa front group, engaged in what Rev. Harden famously characterized as the pro-abortion Kristallnacht terror strikes against those very same pregnancy centers. Now Gottheimer and all the other pro-abortion politicians are making eerily similar claims about pro-life entities to justify their attacks, indicating a conspiracy. Warren's bill would empower the Federal Trade Commission to censor what pro-abortion politicians deem "mis- and dis-information related to abortion services…[authorizing] the FTC to penalize organizations that break this rule." Rev. Harden believes the abortion industry and the politicians that protect it do not want women to know that abortion is attended with a 44% increased risk of breast cancer, a 52% increased risk of future preterm deliveries, and a 5-fold increased risk of suicide.
---
Help CompassCare expand to reach and serve even more women seriously considering abortion in NY and across the United States.