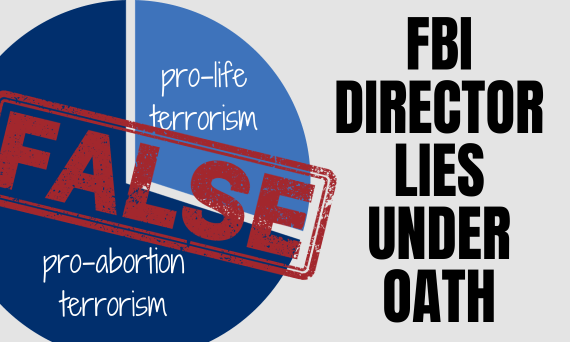 For Immediate Release: November 9, 2023
---
For the first time after 310 attacks on pro-life entities over 18 months, the FBI is finally calling the attacks "domestic terrorism." When asked by Fox News reporter Alexander Hall about the status of investigations into the CompassCare firebombing in light of CompassCare's recent FACE Act lawsuit, the FBI stated, "…about 70% of the FBI's FACE Act or abortion-related domestic terrorism assessments and investigations involve offenses against pro-life facilities or against religious institutions, while 30% involve offenses against clinics that provide abortions." Rev. Jim Harden, CEO of CompassCare, quips, "I'd like to see the FBI's math."
The FBI's recent statement regarding the Buffalo firebombing of CompassCare parrots FBI Director Christopher Wray's testimony a year ago under oath before the Senate Homeland Security Committee hearing. When questioned by Sen. Rick Scott (R-FL) about the FBI's apparent abdication of duty to investigate the violence against pro-life pregnancy centers like CompassCare, Wray intentionally engaged in misdirection by fabricating a comparative percentage of investigations split between pro-life and pro-abortion violence, implying there is violence emanating from the pro-life movement. The lie under oath Wray perpetrated then is being restated by the FBI again when he said, "…probably in the neighborhood of 70% of our abortion-related violence cases or threats are…where the victims are pro-life organizations."
At the time Rev. Harden said Wray's characterizing of FBI activity is a smokescreen designed to make it appear as if the FBI's investigative resources are deployed in an impartial manner, without respect to the Biden Administration's pro-abortion bias. Rev. Harden called out Wray's ridiculous statistic demonstrating as a lie when he said, "The FBI padded their abortion-related violent crimes with 26 trumped-up indictments of closed cases of peaceful pro-life people under the pretense of FACE Act violations. If one were to add those cases to the 73 actual FACE Act violations against pro-life pregnancy centers, you get a total of 99 cases. 73 of 99 would be as Wray said, 'in the neighborhood of 70%.' What an honest FBI Director should have said then is, 'Nearly 100% of all abortion-related violence is against pro-life organizations.'"
Rev. Harden ardently called out FBI's slow-walking of justice when it took them five weeks just to review the video surveillance of the pro-abortion terror attack injuring two firefighters. Adding fuel to the fire the attack was preceded by an ultimatum from the Antifa front group Jane's Revenge as well as a report of concern from CompassCare to the FBI two weeks in advance of the attack. Since then, the FBI refused to call the organized nationwide pro-abortion Antifa attacks domestic terror nor have there been any federal convictions of any of the perpetrators for violating the FACE Act.
Rev. Harden says, "It is staggering it took the FBI seventeen months to call these Antifa attacks domestic terrorism. And to reiterate, the 70% lie in their latest statement regarding the terror attack against CompassCare proves my point once again that the FBI is politicized. Propagating this lie is an act of subterfuge. It is yet another example of misdirection and abuse of the federal justice system."
"The FBI is playing fast and loose with the Constitutional Rule of Law and requires a regime change, impeachments of Christopher Wray and his boss AG Merrick Garland, funding restrictions until FBI corruption can be uncovered, and specific indictments of key leaders for violations of the third KKK Act of 1871, USC 42 section 1986.
---
Help CompassCare expand to reach and serve even more women seriously considering abortion in NY and across the United States.