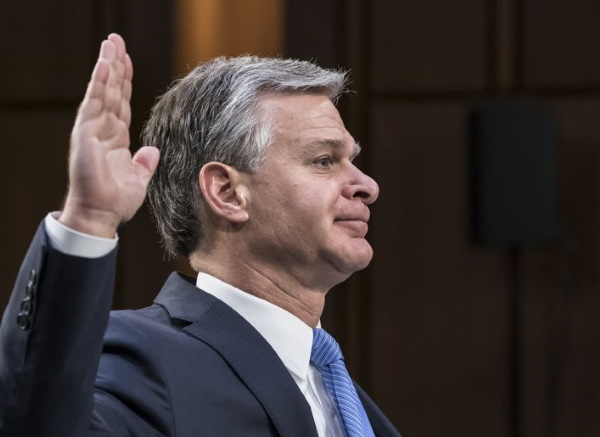 On November 17, at a Senate Homeland Security and Governmental Affairs Committee hearing, FBI Director Christopher Wray was questioned regarding the agency's apparent failure to investigate the six-month surge of violence against pro-life organizations since the leak of the Dobbs case overturning the Supreme Court's abortion ruling, Roe v Wade (1:37:55).
Senator Rick Scott (FL) described allegations that the FBI has been politicized when it comes to failure to investigate nationwide violence such as firebombings against pro-life organizations. When asked if his description of the allegations was correct, Wray pivoted away from Sen. Scott's question to characterize the violence as being perpetrated by pro-lifers saying, "I don't care what side of the issue you're on, you don't get to engage in violence." Throwing pro-lifers a bone, he attempted to cement the lie with a fake statistic commenting that after the leak of the Dobbs case, "…probably in the neighborhood of 70% of our abortion-related violence cases or threats are…where the victims are pro-life organizations."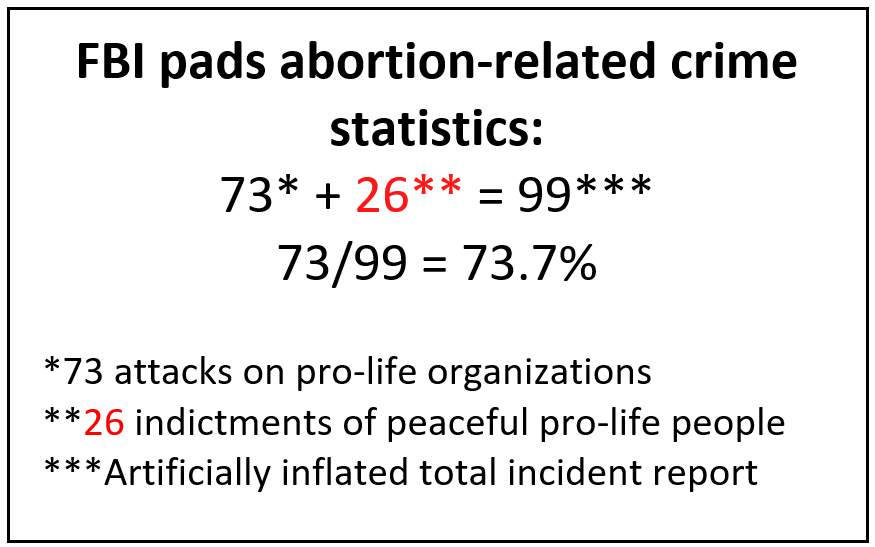 Rev. Jim Harden, CEO of a firebombed pro-life medical office in Buffalo, sheds light on Director Wray's math: "Director Wray's 70% statistic paints a false political narrative that pro-life people are engaging in violence. The FBI padded their abortion-related violent crimes with 26 trumped-up indictments of closed cases of peaceful pro-life people under the pretense of FACE Act violations. If one were to add those cases to the 73 actual FACE Act violations against pro-life pregnancy centers, you get a total of 99 cases. 73 of 99 would be as Wray said, 'in the neighborhood of 70%.' What an honest FBI Director should have said then is, 'Nearly 100% of all abortion-related violence is against pro-life organizations.'" Why would Wray want to mislead the public to think there is violence perpetrated by pro-lifers? It makes the FBI appear even-handed instead of politicized.
Sen. Scott lamented that DOJ and FBI communication habits leave the Senate in the dark, unable to defend the FBI to the public. Despite describing himself as pro-law enforcement, Sen. Scott stated, "If you are reading the press, you would think you guys are only going after pro-life groups, and not going after the groups that attacked pro-life. …but I can't defend you with no information." Sen. Scott may be referring to multiple DOJ press releases committing to develop a joint law enforcement task force to investigate activity in order to exclusively protect and promote the abortion industry —effectively making the FBI the enforcer for the pro-abortion complex—and additional press releases regarding home SWAT Raids and indictments of pro-life leaders, all in the presence of conspicuous silence about the violent crime wave against pro-life pregnancy centers.
Wray then whined to Sen. Scott, again using misdirection, portraying the FBI as the victim of the press. Rev. Harden said, "To be clear, the liberal press refuses to cover the story of pro-abortion extremist violence against pro-life groups. It seems Director Wray wants to know why pro-abortion NPR, CNN, and the New York Times refuse to come to his aid. Responsible journalists simply cover the FBI's visible activity for which Director Wray, Attorney General Merrick Garland, and President Joe Biden are exclusively responsible. And what do the journalists see? They see the FBI attacking pro-life people while abdicating their duty to investigate violence against pro-life organizations."
During the hearing, Sen. Hawley (MO) went on to scold Wray, accusing him of snubbing the statutory oversight requirement by walking out of a Senate Judiciary Committee hearing on the very subject in August.
Rev. Harden went on to say, "Congress holds the purse strings and ought to suspend FBI funding until a thorough investigation into the full extent of the politicization of FBI leadership can be done. The Department of Justice and its FBI under the Biden Administration is no longer blind, undermining public faith in the justice system. Anyone who refuses to hold the law enforcement leadership accountable for their systemic corruption and complicity in crimes against pro-life people are not fit to continue in their office, and that includes Joe Biden, Merrick Garland, Christopher Wray, and anyone who might be a future nominee for the Supreme Court of the United States."
Help CompassCare expand to reach and serve even more women seriously considering abortion in NY and across the United States.