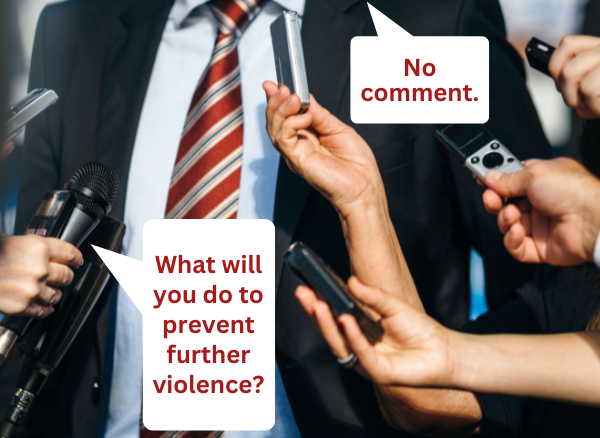 On March 16, CompassCare's pro-life medical office in Buffalo was attacked again by pro-abortion, Maoist Antifa. The first time was on June 7th, 2022, with the catastrophic firebombing, injuring two firefighters. Six days later, Governor Hochul signed a bill to investigate pregnancy centers, insisting that they were harming women by providing misinformation. Attorney General Letitia James followed suit with an open letter to Google, demanding that Google wipe pro-life pregnancy centers off of Google Maps, claiming pro-life organizations are "dangerous and misleading…" Illegally, Google complied in violation of antitrust laws according to 17 Attorneys General.
Rev. Harden, CEO of CompassCare, says, "Ahead of a US District Court Ruling potentially outlawing the chemical abortion drug, in Antifa/Jane's Revenge style, consistent with the message of Governor Kathy Hochul and Attorney General Letitia James, CompassCare's sign was vandalized in red-letter graffiti saying 'LIARS.'"
On February 20, Rev. Harden was concerned that another wave of pro-abortion Antifa violence was coming and asked if the FBI was planning on issuing a threat alert to Christian pro-life people and organizations similar to what they did for the Jewish community in New Jersey on November 3, 2022. They did not respond and issued no warnings.
The Washington Post leaked that the judge hearing the controversial abortion pill case was facing death threats along with his family and court staff while violent rhetoric continued to increase. Such rhetoric included Jane "Hanoi" Fonda's comment to murder pro-life people, in violation of many laws including FCC regulations. The court hearing happened on Wednesday, March 15. Hours later, after midnight on March 16, CompassCare's Buffalo facility was vandalized again. The same day as the vandalism, Rev. Harden again reached out to the FBI to request they issue a heightened threat alert to pro-life people and Christians ahead of the anticipated ruling. Again, no response.
The New York State Police has a Domestic Terror unit that has neither been engaged nor deployed by Gov. Hochul to combat Maoist Antifa in NY. Meanwhile, the Amherst Police Department in charge of both investigations is not treating the vandalism as a FACE Act violation or as related to Antifa domestic terror, but only as criminal mischief.
Rev. Harden's candid comments about NY Governor and Attorney General are as follows: "The reason why Kathy Hochul, Letitia James, and these Antifa terrorists (whom they have never condemned) refuse to face us publicly, in broad daylight, is because they are cowards, afraid to face the truth. The truth that we communicate every day to the community and women facing unplanned pregnancy. That truth? That all people are made in the image of God and therefore equally valuable, deserving of blessing and protection—both mother and child. And further that abortion harms women and children, and does constitutional violence to everyone's 14th Amendment right to equal protection under the law. In my estimation, Kathy Hochul and Letitia James are honorary members of NY's Maoist Antifa/Jane's Revenge terrorist cell."
Rev. Harden's comments on the Biden Administration's DOJ and FBI are as follows: "The DOJ has been actively deprioritizing investigations into pro-life organizations like CompassCare. These investigations are handled by the DOJ's Civil Rights division which is headed up by Kristen Clarke, a known Antifa sympathizer and public hater of pro-life pregnancy centers. Attorney General Merrick Garland is covering for her by ridiculously lying to the Senate Judiciary Committee saying the FBI cannot make arrests because, 'Those attacking the pregnancy resource centers…are doing this at night, in the dark….'"
For additional information, see Ted Cruz (R-TX), Mike Lee (R-UT), and Josh Hawley (R-MO) questioning Attorney General Garland on March 1, 2023. For further documentation of the emerging persecution of pro-life Christians and organizations, click here.
---
Help CompassCare expand to reach and serve even more women seriously considering abortion in NY and across the United States.