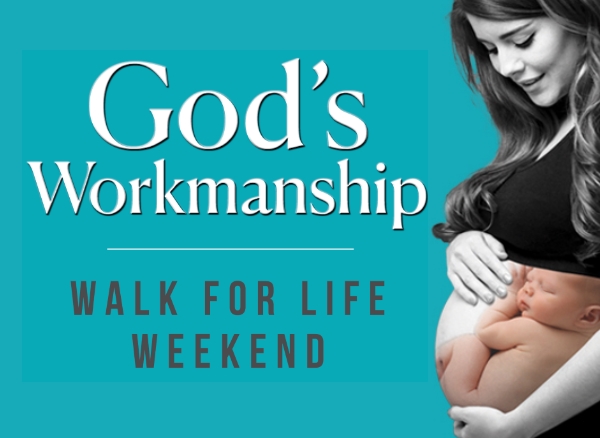 Abortion is racist. Nearly 40% of all abortions are perpetrated on 14% of the population—black people. Abortion is taxpayer funded. 50% of all abortions in the abortion capital of the U.S.—New York State—are Medicaid funded. Abortion harms women. A woman who has an abortion suffers from a 44% increased risk of breast cancer and a 52% increased risk of a future pre-term delivery with the risks for both increasing with each additional abortion. Abortion is fraud. A woman is 500% more likely to end up in the emergency room after starting the chemical abortion process yet is told the drug is "safer than Tylenol."
But even if all these outrageous facts were not true, what does God think about abortion?
"In the beginning God…" (Gen. 1:1). The next word in that sentence is "created." God is the main character in the story of the world. And His crowning creative achievement, the last and best of all God's work, is the making of mankind—in His image (Gen. 1:27). It is precisely and only because of God's image upon man, that even fallen man (Gen. 3:1-7), is required to respect human life by not killing, as God told Noah after the flood (Gen. 9:6). By stamping God's image upon every person, He assigned each of us inestimable value. But what about preborn babies? Do they have value we are obligated to protect from abortion?
After the Fall, God, in His great love for us, went to work again, but this time setting out to redeem mankind from the power of death. This process included revealing Himself to us through the Law. The Law is a teacher of who God is and, therefore, how mankind, made in His image, ought to behave toward God and each other (Mt. 22:36-40). And through the Law, while not explicitly mentioning abortion, God teaches the world the principle of protecting even the preborn boy and girl from harm. There are penalties for anyone who even accidentally causes a woman to miscarry. Even if there is no harm that comes to the child for this accident, the punishment to be exacted is as the "woman's husband may demand" (Ex. 21:22). But if the pre-born baby is harmed by the ACCIDENT, "you shall appoint as a penalty life for life" (Ex. 21:23). This means that God sees preborn boys and girls as fully human, requiring even greater protection than any other class of human.
If God provides babies in the womb the greatest protection against even accidental injury, how much more if the injury is intentional, like abortion? Scripture reveals severe penalties for anyone who intentionally harms a child (see Lev. 20:1-5; Mt. 18:2,6; etc.). Failing to respect the life of our fellow man, especially the vulnerable, denies God and our purpose to reflect His image, dehumanizing us all.
Why do Christians care about abortion? We understand what injustice really is—a denial of what it means to be human under God. Scripture declares that "we are His workmanship" (Eph. 2:10a). The English word for poem is derived from this Greek word for "workmanship." We are God's poem, His work of art, "created in Christ Jesus for good works" (Eph. 2:10b). Christians are God's good work created to do His good work. The Apostle Paul here, in using the word "created" refers us back to the very Hebrew word used of God creating the world in Genesis 1:1. Only now God is recreating us because he says, "you were dead in your trespasses and sins, in which you formerly walked according to the course of this world" (Eph. 2:1-2a).
Paul describes how God recreates the Christian. He loved us with a great love, made us alive together with Jesus, saved us by sheer grace, raised us up, and ultimately seated us with Christ in the heavenly throne room (Eph. 2:4-6). These are statements of fact. This recreation is done upon us as only God Almighty can create.
The upshot is that we cannot recreate ourselves. It requires power only the Almighty possesses. Why? So that "the surpassing riches of His grace in kindness toward us in Christ Jesus" might be shown forever on into the ages to come (Eph. 2:7). Our new reality means that we are being set right, enabled once again to reflect the light of the power of God but this time in a dark and dying world…as Jesus did. It means that we live in the image of the One in whose image we are remade, "created in Christ Jesus for good works, which God prepared beforehand so that we would walk in them" (Eph. 2:10).
What then are these good works? "Do not participate in the unfruitful deeds of darkness, but instead even expose them…. be careful how you walk…making the most of your time, because the days are evil" (Eph. 5:11, 15-16).
Christians seek the protection of a mother and her baby from abortion because, through the salvation given to us by God in Christ, we resonate with the plight of the preborn. As sinners, we too were cut off from life, without hope or knowledge of how dire our circumstance, without resource to save ourselves. Like women who feel trapped and alone, we too were beaten and left for dead by our sin and the sins of others, like the man on the Jericho Road. And Jesus became our Good Samaritan, sacrificing Himself to give us our lives back. And now He commands us to "Go and do likewise" (Lk. 10:37), defining our neighbor as anyone in greatest need, without partiality (Ja. 2:8-9).
Since Jesus came to "seek and to save that which was lost" (Lk. 19:10), we are destined to walk that path too. His heart is for the weak and vulnerable, the widow and the orphan. God commands His people in Psalm 82, "Vindicate the weak and fatherless…. Deliver them out of the hand of the wicked" (Ps. 82: 3a, 4b). Through the prophet Isaiah, God obligates His people saying, "Learn to do good; seek justice, reprove the ruthless, defend the orphan, plead for the widow" (Is. 1:17). There is no one more widowed than a woman who thinks she must choose between her life or her baby's. There is no one more fatherless (orphaned) than a baby whose life is disdained by the ruling and religious elite (Lk. 10:31-32).
And now Scripture says to the Christian, "For we are His workmanship…created for good works…so that we should walk in them" (Eph. 2:10).
In Christ,

Rev. James R. Harden, M.Div.
President/CEO
P.S. Register at CompassCareWalk.com to double the number of women and babies saved from abortion in 2023 through the Walk for Life Weekend.