[Raw footage of the attack can be found here. The time has not been updated for daylight savings time. Actual date is 3/16.]
Buffalo, NY – On Wednesday, March 15, at approximately 10:30pm ET, CompassCare, a previously firebombed pro-life medical office in Buffalo, was again attacked by pro-abortion Maoist Antifa. There have been no arrests in the June 7, 2022 arson attack on CompassCare, injuring two firefighters, which the FBI has slow-walked.
CompassCare's exterior sign was defaced using red-letter graffiti in typical Antifa/Jane's Revenge fashion. Red letters spelling "LIARS" were splayed over the entirety of the sign. Maoist Antifa sympathizers oddly insist that Christian pro-life pregnancy centers mislead and enslave women. International Maoist Antifa claims are based on a political philosophy that is anti-Christian and anti-capitalist, wrongly believing women are forced to have their babies thereby becoming a permanent socio-economic underclass.
Rev. Jim Harden, CEO of attacked CompassCare says, "This fits the definitions of domestic terror. Those in the FBI and DOJ who refuse to treat it as such need to be fired and investigated. This is an act of intimidation and a violation of the FACE Act. America needs to return to a civilized order. CompassCare dignifies women with true choice and there's nothing Antifa can do to make us stop. All people are made in the image of God and are equally valuable—both the mother and the child. The love of God triumphs over terror."
The attack was caught on video and is consistent with the increasingly violent rhetoric against pro-life Christians and organizations.
CompassCare is asking for the community's help in identifying the perpetrator. The raw video surveillance of the attack can be viewed here. Permission is given for the publication of both video and photos of the incident.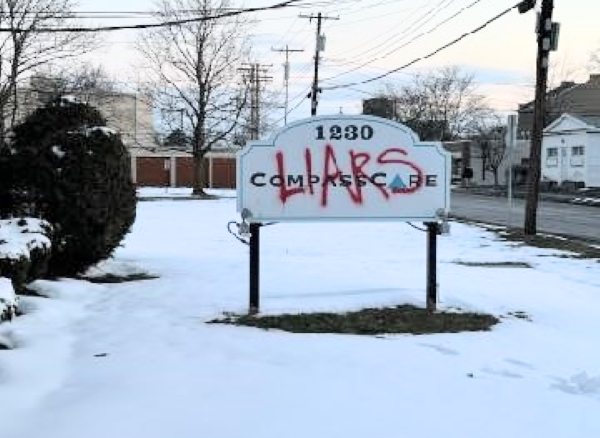 ---
Help CompassCare expand to reach and serve even more women seriously considering abortion in NY and across the United States.