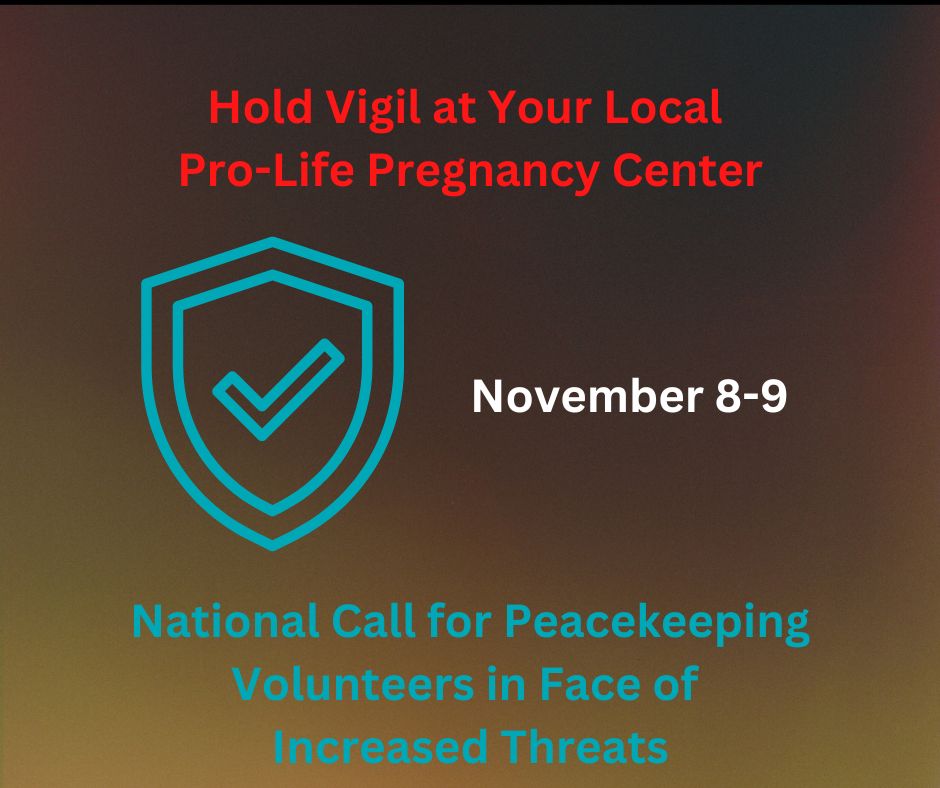 On Friday, October 29, an internal memo of federal joint law enforcement, including the FBI and Department of Homeland Security, was leaked. It warns of increased pro-abortion extremist violence aimed at pro-life people and organizations around the midterm elections taking place on Tuesday, November 8. Pro-life strategist and CEO of firebombed pro-life medical network in Buffalo, Rev. Jim Harden, is issuing a national call for peacekeeping volunteers to hold vigil at their local pro-life pregnancy center(s). Rev. Harden said, "In light of the lack of arrests in the wake of nationwide violence and death threats leveled against peaceful pro-life pregnancy centers by pro-abortion extremist cells, I am issuing a call for volunteer peacekeepers to keep vigil. The prayerful presence of a group of people with cameras, taking video and pictures of all suspicious activity, will serve to both protect a valuable community service to women in crisis as well as aid in the capture of radicalized pro-abortion extremists."
If the elections tip in favor of pro-life Republicans, as even Democrat CA Governor Gavin Newsom believes will happen, it will likely foment more anger among pro-abortion domestic terror cell groups like Jane's Revenge who have already firebombed pro-life medical offices and issued ultimatums for them to shut down using death threats.
The polls show that election campaigns promoting abortion-on-demand without restriction are out of touch with the electorate, 70% of whom favor state level restrictions. This over-promotion of abortion, coupled with run-a-way crime and inflation, is driving Independents and some Democrats to pro-life candidates who understand that it is government's job to protect all human life. The unintended consequence of this power shift, however, may be increased violence against pro-life organizations.
Rev. Harden, is encouraging volunteers nationwide to peacefully and prayerfully wait on God for the protection of these life-saving institutions starting on the evening of Tuesday, November 8 through the evening of Wednesday, November 9.
It appears the hostile atmosphere targeting peaceful pro-life people since the leak of the Dobbs case in May is not only being tolerated by federal law enforcement but promoted by pro-abortion politicians. Interestingly, many of those pro-abortion politicians are now attempting to distance themselves from the abortion industry's control over the Democratic party, permitting the vilification and attack of pro-life people and groups. Beating the abortion drum has backfired on them, linking them to all the potential malpractice and fraud of the abortion industry as well as conspiracy to deprive pro-life citizens of their rights to speech and equal protection under the law.
Rev. Harden believes a prayerful presence at pro-life pregnancy centers on the evenings of November 8 and 9 would be invaluable to protect the life-saving assets of their community. While holding vigil, he is asking the peacekeepers to sing and pray to God that He would shine the light of His self-revelation upon our attackers. Pray that they submit to Jesus for the forgiveness of their sins, as we have done, and that the nation would step away from the barbaric cliffs of secularism to return to civilized order. Rev. Harden insists, "Blind justice requires a deep respect for all human life. This level of human dignity cannot be decreed by government. It emanates from the truth that all humans are made in the image of God and are therefore equally valuable, without partiality."
Help CompassCare expand to reach and serve even more women seriously considering abortion in NY and across the United States.