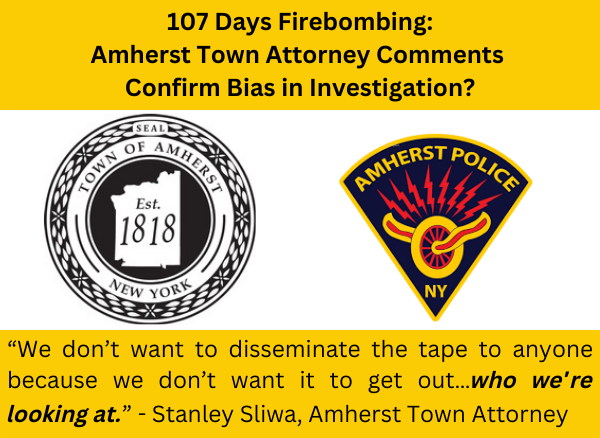 CompassCare is a network of pro-life medical offices. Their Buffalo office was firebombed in a series of over 50 attacks on peaceful pro-life pregnancy centers by pro-abortion extremists like Jane's Revenge on June 7. Recent FOIA request by CompassCare attorneys revealed the attack injured two firemen. Now, 107 days after the firebombing and despite the violence, law enforcement remains lethargic.
Pro-life pregnancy centers like CompassCare serve women primarily through a team of nurses who provide for the unmet health and resource needs of women facing unplanned pregnancy. Most, including CompassCare, are funded by Christian people and churches, providing all services, including medical care, for free.
Status: Jane's Revenge continues their ultimatum and barbaric attacks. Pro-abortion elites like NY Gov. Kathy Hochul call pro-lifers 'Neanderthals' while signing legislation to investigate them. NY AG Letitia James demanded Google wipe pro-life organizations off the maps so women seeking services could not find them. Big tech like Google and Yelp have begun aggressive censorship.
The firebombing incident in Buffalo injuring two, and evidence provided, CompassCare claims, should be enough to make an arrest. But after being denied multiple good faith requests over the last 107 days to view its own video surveillance of the attack, CompassCare's attorney is now asking a judge to order the Amherst Police to provide CompassCare with a copy.
Representing the Town of Amherst and the Amherst Police, Attorney Stanley Sliwa told a Buffalo news agency, "We don't want to disseminate the tape to anyone because we don't want it to get out…who we're looking at."
CompassCare CEO Rev. Jim Harden said, "Ironically, the Amherst PD's only official statement on the matter requests help from the public to provide any information regarding the case. Sliwa's comment seems to imply the footage identifies the suspects. So, why haven't they made an arrest? Where is the FBI manhunt?"
When interviewed by an Epoch Times reporter, Sliwa's comments became incendiary. Asking why the Police refused to let the victims have their own video, the reporter stated Sliwa feared the information would cause violence from the political right. Sliwa was then quoted as saying, "You're aware of all the nut jobs out there with guns and AK-47s, bombing and killing people because they have certain political views."
Rev. Harden responded, "Sliwa's comments only confirm what we suspected; bias. The only bombings we're aware of come from the political left. Hence the investigation. We are for law and order. We believe all people are made in the image of God and must be equally protected, preborn boys and girls, their mothers, the pro-life people who seek their welfare, and everyone. Linking peaceful victims to bombers and killers is staggering. If Sliwa is truly representing the Town of Amherst and the Amherst Police Department, then it confirms leadership at the FBI and Town of Amherst deprioritized the investigation for political reasons."
For information regarding CompassCare's request for a copy of its own video, contact the CompassCare Communications Department at 585-232-3894.
Help CompassCare expand to reach and serve even more women seriously considering abortion in NY and across the United States.