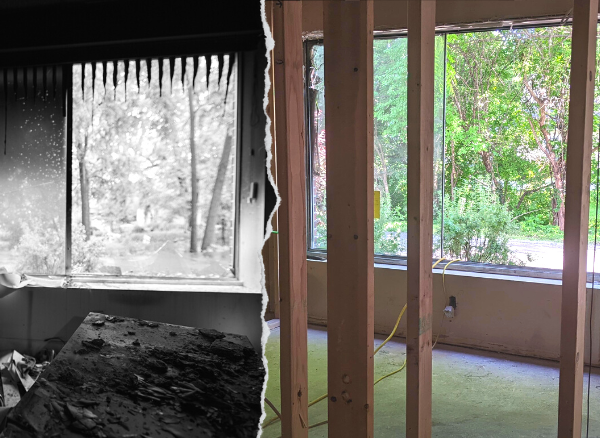 "The word 'person' does not apply to the unborn." So read the Supreme Court's majority opinion in Roe v. Wade in 1973. Therefore, the lives of preborn boys and girls were robbed of the Constitutional protection of their right to life, paving the way for abortion. On Friday, June 24, 2022 the Supreme Court overturned Roe saying, "The Roe decision was egregiously wrong." Weeks ahead of the official release of this historic ruling, someone within the court illegally leaked a draft of the majority opinion, sparking a nationwide domestic terror crime wave against pro-life organizations like CompassCare.
On Tuesday, June 7 at 2:30am,  cowardly pro-abortion terrorists broke the windows and firebombed CompassCare's Buffalo medical office. The group calling themselves Jane's Revenge claimed responsibility, vowing further and more severe violence if we do not stop serving women. But Christians are called to fear God alone and serve people sacrificially. So, while the building was severely damaged, CompassCare continued serving patients that same day (see reverse), and was back up and running in an alternate location the very next day. Beyond that, the rebuilding of the medical office began immediately with an aggressive Nehemiah-like goal to reopen services at the firebombed location 52 days later on July 29.
Over 70 pro-life organizations across the country have been the victims of this pro-abortion crimewave and yet unbelievably, at the time of this writing, no arrests have been made. Adding insult to injury, six days after the Buffalo firebombing, NY Governor Hochul signed a bill investigating—not the arsonists—but pro-life pregnancy centers, referring to pro-life people as 'Neanderthals.' Meanwhile, NY Attorney General Letitia James wrote a letter to Google demanding the company wipe pregnancy centers from their maps so women facing unplanned pregnancy could not find us.
CompassCare is under attack physically by pro-abortion terrorists, legislatively by pro-abortion politicians, and publicly by the chief law enforcement officer in NY. This is the pro-abortion Krystallnacht. Not unlike 1938 when Nazi Brownshirts targeted Jewish businesses with the breaking of glass and torching of buildings in the middle of the night, there has been no public outcry in the mainstream media while the pro-abortion political elite join the attacks. Pro-life people and organizations like CompassCare are being treated like second-class citizens because we believe the Bible, that all people are made in the image of God and must be protected, especially preborn babies, society's weakest and most vulnerable.
And while pro-abortion terrorists and politicians mean to instill fear and shut us down, CompassCare refuses to stop. Like Peter and John, CompassCare has been commanded by them "not to speak or teach at all in the name of Jesus." But by the grace of God, like Peter and John, we will continue to say, "Whether it is right in the sight of God to give heed to you rather than to God, you be the judge, for we cannot stop speaking about what we have seen and heard" (Acts 4:18-20).
The need is greater than ever. Thankfully, the reversal of Roe caused thousands of abortion appointments to be canceled in conservative states outlawing the gruesome practice. But make no mistake, abortion tourism has begun in the states like NY that keep it legal, causing women to travel or go online to get abortions. This is the moment CompassCare has been planning for this since 2018, hacking the abortion empire's business plan with a strategy to compete head-on!
This is why CompassCare has been developing a presence in all of New York's abortion hub cities. This is why CompassCare is Rebuilding Bigger in Buffalo to handle an influx of patients from out of state. This is why CompassCare is buying a building in Albany to serve 25% of all women in the Capital Region seriously considering abortion. This is why CompassCare is giving 650 pro-life pregnancy centers nationwide the 21st-century telehealth tools to serve women before they travel or go online to get their abortions.
So, what are we to do about the current attacks against pro-life people and organizations? Scripture tells us, "But even if you should suffer for the sake of righteousness, you are blessed. And do not fear their intimidation, and do not be troubled, but sanctify Christ as Lord in your hearts, always being ready to make a defense to everyone who asks you to give an account for the hope that is in you…" (I Pt. 3:13b-15a).