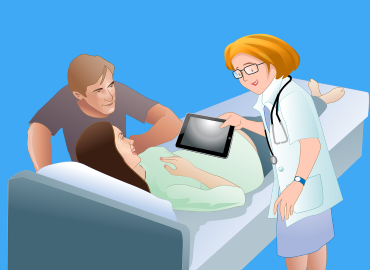 New York is launching a major assault on all pro-life positions, including ethical medical professionals, pregnant women, and Pregnancy Resource Centers.
Allegedly petrified that the newly confirmed Supreme Court Justice Brett Kavanaugh might help the Supreme Court to overturn Roe v. Wade, Governor Cuomo signed a statement1 committing to pass abortion expansion legislation2 within the first 30 days of the next legislative session in January. The bill elevates abortion to a civil right. This directly attacks an ethical medical provider's ability to practice medicine without violating his conscience by coercing him to participate in the abortion process. Not doing so could be interpreted as a civil rights violation. Another side-effect of this toxic bill would be the dampening of informed consent. Informed consent says that a person must know the full extent of all her options and have the ability to say "no" to any given course. This bill stifles full and accurate information about the negative short and long-term consequences of abortion because the doctor is afraid of the repercussions should he refuse to carry the government's water on abortion.
Even beyond trampling the consciences of medical professionals and the true informed consent of women just to expand abortion through all nine months of pregnancy, the New York legislature is considering a formal enquiry of pro-life Pregnancy Resource Centers (PRC). Before his retirement, Justice Kennedy issued a stern warning3 to liberal states like New York not to go the route of tyrannical regimes by targeting the faith of pro-life pregnancy centers. New York's Governor is ignored this warning by toying with a bill targeting PRCs for investigation (Assembly Bill 11150).4
The rationale for the bill is that PRCs are harmful to the communities they serve. But when was the last time someone died in a pregnancy center? Now ask that same question of an abortion clinic. The bill appears to amount to nothing more than pro-abort politicians weaponizing government at tax-payer expense to bully the abortion industry's only competitor.
If all that were not enough, Gov. Cuomo recently launched a 'Public Awareness Campaign on Reproductive Health Care Resources.'5 The drive includes direct advertising and a website6 dedicated in large part to promoting the services of private abortionists while disparaging the services of PRCs. According to the press release this drive is necessary because of alleged reports of PRCs manipulating women by offering free services. The release states: "These centers' actions may interfere with New Yorkers' constitutionally protected rights to seek reproductive health care and may endanger them by preventing them from receiving medically accurate information." These are serious defamatory accusations for a mere ad campaign.
If PRCs are as dangerous as the governor alleges, why has not a single PRC been convicted of…anything…ever, including misinformation? The same cannot be said7 for abortionists. So, not only are New York politicians forcing tax-payers to fund abortion but now also the promotion of private abortionists and defamation of good Samaritan PRCs.
CompassCare's preferred mode of operation is to abide by Paul's exhortation to the Romans: "If possible, so far as it depends on you, be at peace with all men" (Romans 12:18). Paul wrote these words because he knew full well there are times when one must choose between living at peace with 'all men' and obeying God. Should our Lord choose to bring us to that moment in the ring, let us stand before God as David before Saul and say, "… your servant will go and fight with this Philistine" (I Samuel 17:32).
---
1 Cuomo unleashing new ads targeting GOP state senators on abortion bill (NY Daily News)
2 Cuomo vows to reintroduce state abortion rights bill (lohud.com)
3 National Institute of Family and Life Advocates, dba NIFLA, et al. v. Becerra, Attorney General of California, et al.
4 NYS Assembly A11150
5 Governor Cuomo Launches Public Awareness Campaign on Reproductive Health Care Resources in New York (NYS)
6 Pregnancy: Know Your Options, Get the Facts (NYS Family Planning Program)
7 NY Abortionist Pleads Guilty (CompassCare)