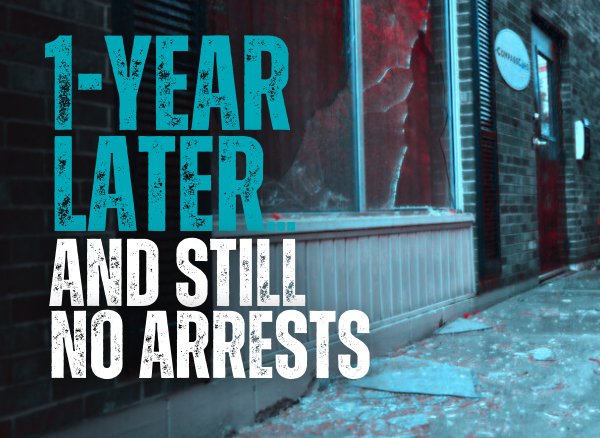 For Immediate Release: June 5, 2023
—
June 7, 2023 is the 1-year anniversary of the brutal firebombing of CompassCare's Buffalo, NY pro-life medical office, causing half a million dollars of damage, injuring two firefighters, and inaugurating the pro-abortion Kristallnacht.
On May 16, 2022, Google removed all of CompassCare's business listings, preventing both patients and supporters from finding any of CompassCare's NY offices. On May 25, CompassCare alerted local law enforcement to threats made by Jane's Revenge and increased, aggressive attempts to rally lewd and graphic protestors at CompassCare's Buffalo office. At this time, CompassCare submitted a formal complaint to the FBI. On June 7, approximately an hour before the 2:30AM (ET) firebombing, Google reinstated CompassCare's Google and Google Maps listings. Just six days later, on June 13, NY Governor Kathy Hochul signed a bill to investigate, not the arsonists, but pro-life organizations like CompassCare, referring to pro-life people as "Neanderthals." Likely emboldened by Hochul's response, on June 15, the Maoist Antifa group, Jane's Revenge, took responsibility for the firebombing of CompassCare as the fulfillment of their 30-day ultimatum for pro-life entities to shut down which was published after the firebombing of a Madison, WI pro-life organization.
Hundreds of attacks nationwide followed while left-wing media refused to this day to cover the coordinated Antifa domestic terror. Rev. Harden, CompassCare CEO, reflects, "Kristallnacht became the tipping point of violence into the Jewish community in 1938 Germany. This was because of a lack of public outcry by the political elite and their refusal to denounce the violence. Well, the pro-abortion violence continues today, exacerbated by the complicity of federal law enforcement and pro-abortion politicians in charge of the Democrat party."
While CompassCare resumed serving patients the day after the firebombing and rebuilt the torched medical office in 52 days, there have been no convictions of the two arsonists who attacked CompassCare, nor in any of the over 300 other attacks on pro-life entities.
Meanwhile, the Biden Administration, DOJ, FBI, and DHS have instead seemingly joined forces with pro-abortion extremists in targeting Christian, pro-life leaders, pregnancy centers, and even moms for investigation and arrest. In fact, the local police (Amherst Police Department), under the direction of the FBI, refused to return CompassCare's private video surveillance of the attack, subjecting both to potential litigation. The footage was only returned after CompassCare won a lawsuit against the Amherst Police Department in April, 2023. As such, prosecutions should be levied against not only Maoist Antifa terrorists, but all parties associated with denying equal protection under the law to their victims—including, but not limited to, Sedition, Treason, RICO, Money Laundering, and violations of the 3rd KKK Act of 1871.
---
Help CompassCare expand to reach and serve even more women seriously considering abortion in NY and across the United States.