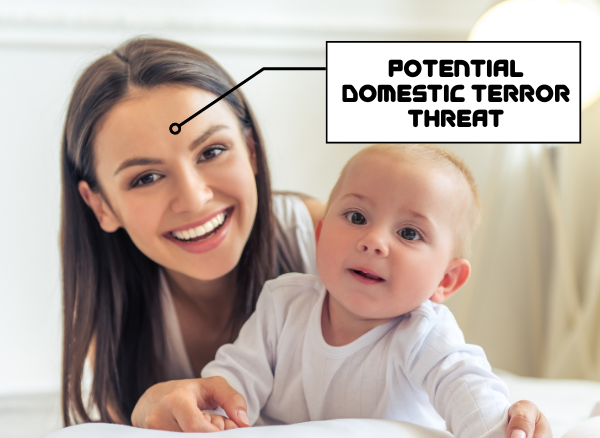 For Immediate Release: May 13, 2023
—
On May 9, disturbing FOIA documents were published after being obtained by America First Legal from the Department of Homeland Security (DHS). The documents reveal that the DHS joined the FBI in a pattern of criminal behavior targeting pro-lifers—this time mothers. The training documents at the DHS consider peaceful pro-life mothers to be potential domestic terror threats. This is consistent with behavior from the FBI, as whistleblowers from within revealed, issuing a threat tag for agents to be aware of "pro-life adherence," and to look into "pregnancy centers" while spying on pro-life Catholics. It is curious to note that all Federal law enforcement behavior is happening at the same time that pro-life entities are being threatened and violently attacked by pro-abortion Antifa terrorists, none of whom have been convicted by the DOJ of over 300 Federal crimes including acts of domestic terror like firebombings of pro-life pregnancy centers.
Given the FBI's recent unjust arrest record targeting pro-life citizens and the DOJ's indictment of dozens of them for peacefully expressing their pro-life views, Rev. Harden of the firebombed pro-life network in Buffalo says, "These new revelations of the DHS focus on pro-life moms as potential domestic terror threats confirm a pattern of criminal behavior to shut down public pro-life activity by depriving pro-life citizens of their 1st and 14th Amendment rights."
Rev. Harden continues, "Apparently the government is afraid of the power of middle-aged, pro-life moms. After all, 'the hand that rocks the cradle is the hand that rules the world.'"
Using force or permitting the use of force for the purpose of getting people to stop behaving in ways that run counter to a political narrative is domestic terror. This applies as much to pro-abortion Antifa as it does to the FBI. Further, conspiring to use the force of government to intimidate, threaten, or attack or permit the same on pro-life citizens in violation of their constitutional rights undermines the Rule of Law and is therefore seditious and treasonous. Those pro-life citizens who are not receiving equal protection under the law should file federal racketeering charges for triple damages against anyone connected to the crimes including the President, Vice President, and leadership of the DOJ, DHS, and FBI.
Harden is calling for redoubled efforts by both the Senate and House Judiciary committees to cut funding to corrupt federal law enforcement until a thorough investigation into federal corruption can be conducted by independent special counsel or military tribunal in circuits where the majority of appointed judges are not defending the constitutional rights of the citizenry. Harden is also calling for State Governors, Attorneys General, and local Sheriffs to protect their pro-life citizens from federal law enforcement's unjust dawn SWAT-raids and phony FACE Act indictments—baldfaced trampling of state's rights in violation of the 10th Amendment. Should federal, state, and local officials refuse to protect pro-life citizens' rights, those officials should be charged with violations of the third KKK Act of 1871.
Happy Mother's Day!
---
Help CompassCare expand to reach and serve even more women seriously considering abortion in NY and across the United States.