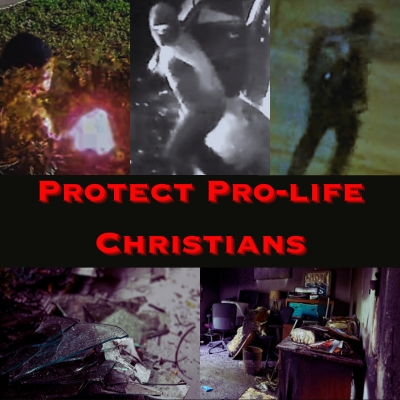 On Wednesday, March 29, one day after the FBI made its first arrest in any of the firebombing incidents of pro-life entities, Florida Attorney General, Ashley Moody, filed a civil complaint in Federal court against members of Antifa/Jane's Revenge for violating the FACE Act. Additionally, charges have been filed against the pro-abortion Antifa members for racketeering.
After two recent arrests in cases related to two high-profile firebombing incidents for which Jane's Revenge, Antifa's pro-abortion domestic terror cell, took responsibility, the Department of Justice (DOJ) failed to indict the alleged perpetrators for committing acts of terror or violating the FACE Act. Yet, U.S. Attorney General Merrick Garland insisted under oath that the DOJ is enforcing the FACE Act equally, prosecuting crimes against pro-life groups just as they would crimes against abortionists.
The Federal government is not adequately protecting pro-life Christians from attack. Therefore, there needs to be a Special Prosecutor assigned to investigate this as well as Merrick Garland's potentially perjurious remarks before the Senate Judiciary Committee. CompassCare's CEO, Rev. Jim Harden, urges citizens to demand that their State Attorney General begin investigating and prosecuting attacks against pro-life people, as Florida's Attorney General has done.
Rev. Harden says, "The process for the Senate or House Judiciary to handle lying under oath is to send it to the DOJ for review and investigation. Since there is clearly a conflict of interest in this case, proper process would dictate appointing a Special Prosecutor to review 1) potential perjurious remarks made by Garland and others and 2) examine Garland and others in the DOJ and FBI leadership for conspiring to deprive pro-life citizens of equal protection under the law."
Governors and State Attorneys General who fail to uphold their oath of office by denying equal protection under the law to pro-life Christians ought to be impeached.
Rev. Harden is calling for a return to rule of law, demanding all state Attorneys General enforce the law equally, investigating and prosecuting pro-abortion Antifa domestic terrorists. Rev. Harden decries New York AG Letitia James, "Stop treating law-abiding pro-life people as second-class citizens. New York State Police have a domestic terror team that New York Gov. Hochul refuses to deploy. If the political elite like Letitia James and Hochul continue violating their oaths of office, running interference for pro-abortion Antifa, they should be evicted from office and tried for aiding and abetting domestic terrorists."
In response to the bias and inaction of both New York State and federal law enforcement, Congresswoman Claudia Tenney (R-NY) introduced a bill entitled Pregnancy Resource Center Defense Act stating, "Kathy Hochul, Letitia James, and President Biden have all failed to condemn this attack and offer protection to CompassCare and the people it serves." Rev. Harden predicts the bill will be railroaded by pro-abortion politicians mischaracterizing it as being about abortion rather than equal protection under the law.
Rev. Harden is asking U.S. citizens to sign a petition urging 1) their Senators and Congressmen to approve the Pregnancy Resource Center Defense Act and 2) their State Attorneys General to fulfill their oath to enforce the law equally, indicting members of pro-abortion Antifa for crimes targeting law-abiding pro-life citizens. To sign the petition, go to ProtectProLifeChristians.com.
---
Help CompassCare expand to reach and serve even more women seriously considering abortion in NY and across the United States.