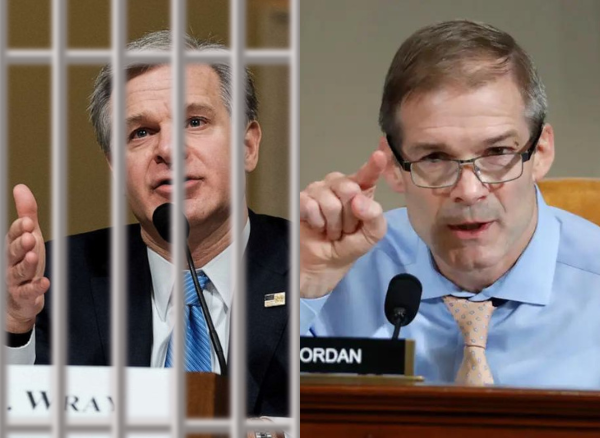 Rep. Jim Jordan, Incoming Chairman of the House Judiciary Committee, made good on his promise to aggressively investigate the politicization of the FBI. On November 18, letters were sent to forty-two Biden Administration officials—including FBI Director Christopher Wray—mandating their cooperation in the Judiciary Committee's "further investigations into allegations of politicization and bias at the Federal Bureau of Investigation." In the House Judiciary Committee's recent 1050-page report notes, "There is likely much more to be uncovered in the months ahead. But from what is known, it is clear the FBI needs repair." Could the FBI's abdication of duty and failure to cooperate be seditious?
The House Judiciary Committee has the authority to investigate the FBI under Article I of the U.S. Constitution. The Committee claims the FBI has not been cooperative, stating in their most recent letter, "…we have made several requests for information and documents concerning operations and actions of the Federal Bureau of Investigation…. To date, you have ignored these requests, or you have failed to respond sufficiently." If the FBI continues thumbing its nose, the letter threatens the use of what they refer to as a "compulsory process." Even at a recent Senate Homeland Security and Governmental Affairs Committee hearing Sen. Hawley scolded FBI Director Wray for abandoning a required hearing.
Since August, Rev. Jim Harden, CompassCare CEO, has stated that the Biden Administration's FBI has been slow-walking justice for pro-life victims of violence. All of those slow-walkers may be culpable under the Third "KKK" Act of 1871. The following are Rev. Harden's suggested questions for Rep. Jordan and the House Judiciary Committee's questioning of all the slow-walkers:
Have you advocated, paid for, and/or had an abortion?
Did confidential FBI human sources participate in domestic terrorism?
Are pro-life pregnancy centers, particularly those who have been victims of domestic violence, currently being investigated by the FBI?
Why has the FBI chosen not to categorize the crimes perpetrated against pro-life pregnancy centers as domestic terrorism?
Is there an FBI investigation into Mann Act violations concerning minors—such as the 10-year-old rape victim in Ohio transported to IN for an abortion?
More questions will follow as the investigation unfolds.
Help CompassCare expand to reach and serve even more women seriously considering abortion in NY and across the United States.