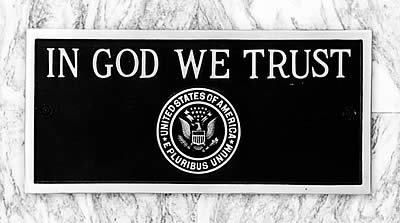 On October 9, 2015 the governor of California signed a bill passed by both houses of the CA legislature ordering pro-life medical clinics to advertise to each patient where and how they can get an abortion. This is a direct violation of the mission of these organizations and a violation of the deeply held religious convictions of the staff and volunteers. Should they obey God or the State? When believers in the early church faced such sanctions this is how they responded: "But Peter and John answered and said to them, 'Whether it is right in the sight of God to give heed to you rather than to God, you be the judge; for we cannot stop speaking about what we have seen and heard'" (Acts 4:19-20).
Recently the governor of Washington State signed into law a bill mandating all pharmacies and pharmacists dispense abortion-causing contraception with no exceptions for Christians with convictions to the contrary. The Supreme Court refused to hear the case about this severe violation of the religious liberty of medical providers. Justice Alito wrote the dissenting statement issued June 28, 2016 in which he begins, "This case is an ominous sign." He goes on to clarify that now "a pharmacy may not 'refuse to deliver a drug or device to a patient because its owner objects to delivery on religious, moral, or other personal grounds.'" The fabricated right to abortion now trumps the actual Constitutional right of the freedom of religion. Christian pharmacists in Washington State must either comply or risk losing their very livelihood. What ought to be their response? When the first century church in Philippi was confronted with suffering for their faith Paul encouraged them saying, "Only conduct yourselves in a manner worthy of the gospel of Christ…in no way alarmed by your opponents…. For to you it has been granted for Christ's sake, not only to believe in Him, but also to suffer for His sake…" (Philippians 1:27-29).
In 2013 New York Governor Cuomo attempted to expand abortion by pushing a law that would have enshrined it as a fundamental human right, equal to freedom of religion. It was defeated by just one vote in the Senate. If such a law would have passed, it would have made not providing or referring for abortion a violation of a civil right, punishable under the law. Cuomo has vowed to bring that bill back in 2017. Needless to say, should a bill like this pass it will be much more difficult for CompassCare to erase the need for abortion. Paul encourages Christians to live in such a way that reflects the hope we have of being resurrected when Jesus returns, which points to the renewal of all creation under His reign. Therefore we are to "be steadfast, immovable, always abounding in the work of the Lord, knowing that your toil is not in vain in the Lord" (I Corinthians 15:58).
Our works on earth, in service to the Lord, carry over and remain at our resurrection and the rebirth of heaven and earth. But the Christian's suffering is only for a short while at the hands of a world that will one day cease from groaning, rejoice, and marvel at the willing sacrifice of its Savior (Romans 8:18-23). And so as the Apostle Peter admonishes, "…to the degree that you share the sufferings of Christ, keep on rejoicing, so that also at the revelation of His glory you may rejoice with exultation" (I Peter 4:13).
Jesus' assumptionis that belief in Him will cause a Christian to stand out and that the purpose of a Christian's behavior in this life counts for something in the next. Christian people in all sectors of society are called to behave as citizens of the Kingdom of God, which came to earth at the incarnation of Christ (Luke 17:20-21). This behavior is a radical departure from the expectations of the world and will elicit a visceral response by those living according to the rule of man-as-god rather than God-as-God. Jesus foretold what the world's reaction will be toward His followers at the Sermon on the Mount saying, "Blessed are you when people insult you and persecute you, and falsely say all kinds of evil against you because of Me. Rejoice and be glad, for your reward in heaven is great…" (Matthew 5:11-12).
Since 2013, CompassCare has been working diligently on a major project to partner more closely with like-minded Christian medical professionals ensuring that comprehensively pro-life Christian medical care remains an option for women considering abortion. As Christians our allegiance is to Christ the King, first. And then, a martyr's advice to those expanding the kingdom of God into Rome, "If possible, so far as it depends on you, be at peace with all men" (Romans 12:18).