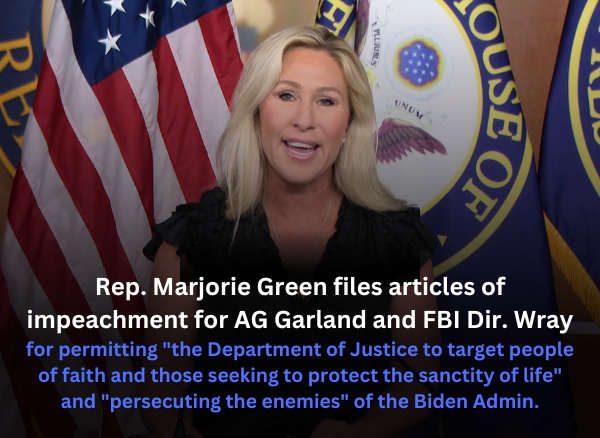 For Immediate Release: May 22, 2023
—
A pattern of criminal behavior is being revealed in the Biden Administration's law enforcement. On May 17, Rep. Marjorie Green filed articles of impeachment for Attorney General Merrick Garland and FBI Director Christopher Wray for, among other things, permitting "the Department of Justice to target people of faith and those seeking to protect the sanctity of life" and "persecuting the enemies" of the Biden Administration. This includes a refusal to identify as domestic terrorists Antifa front group, Jane's Revenge, for its nationwide threats and firebombings of pro-life organizations like CompassCare in Buffalo. CEO of CompassCare, Rev. Jim Harden applauds Rep. Greene, "This is a good start. The leadership in the DOJ, FBI, and DHS need to be impeached for both depriving pro-life people of equal protection under the law and for undermining the rule of law for knowing, permitting or participating in federally-defined domestic terrorism."
On May 12, Rev. Harden issued a press statement, saying, "Using force or permitting the use of force for the purpose of getting people to stop behaving in ways that run counter to a political narrative is domestic terror. This applies as much to pro-abortion Antifa as it does to the FBI. Further, conspiring to use the force of government to intimidate, threaten, or attack or permit the same on pro-life citizens in violation of their constitutional rights undermines the Rule of Law and is therefore seditious and treasonous. Those pro-life citizens who are not receiving equal protection under the law should file federal racketeering charges for triple damages against anyone connected to the crimes including the President, Vice President, and leadership of the DOJ, DHS, and FBI." Rev. Harden applauds Rep. Green for taking it a step further and filing articles of impeachment for all noted positions and encourages her to file the same from Vice President Kamala Harris for her role in the Reproductive Health Task Force.
While Rev. Harden believes it is naïve to believe that the FBI doesn't know who is attacking pro-life organizations, he insisted on February 3, 2023, that AG Garland should be fired for, "…turning the department of justice into a legal firing squad against [peaceful pro-life people]." On May 15, a special hearing of a House Judiciary Subcommittee was conducted to explore "attacks on pregnancy centers, pro-life facilities, and the Biden Administration's use of the Freedom of Access to Clinic Entrances (FACE) Act." In his opening remarks, Rep. Johnson noted that the FBI and DOJ have not brought charges nor made any arrests in the case of the June 7, 2022 firebombing of CompassCare's pro-life medical office in Buffalo, instead "unleashing federal law enforcement on pro-life advocates."
On May 12, 2023, Rev. Harden called for "redoubled efforts by both the Senate and House Judiciary committees" calling for a funding freeze of federal law enforcement pending thorough investigations. A week later, on Thursday, May 18, another hearing was held to review FBI retaliation against whistleblowers who brought to light the Bureau's targeting of pro-life entities. This included Special Agent Garret O'Boyle who revealed the FBI's sinister investigation of pro-life victims of violence, issuing a threat tag for "pro-life adherence" and to look into pregnancy centers.
The attacks on pro-life people appear to be sanctioned by President Biden, Attorney General Garland, FBI Director Wray, and now even DHS Secretary Mayorkas. On May 9, 2023, it was revealed that the DHS was targeting pro-life mothers as domestic terror threats. Rev. Harden says, "Impeaching Wray and Garland is a good first step. But undermining the Constitutional rule of law by coopting law enforcement to deprive pro-life people of their rights goes all the way up to Biden himself. It is possible that there are thousands in federal law enforcement or holding official office who should face trial for high crimes and misdemeanors including treason and sedition, violating their oath by using their official role to deprive citizens of their 1st and 14th Amendment rights to freedom of expression and equal protection while permitting or participating in acts of domestic terror."
Harden reminds all members of Congress and all candidates for President, "It is the role of government to protect all people equally, without qualification or political persuasion because all people are created in the image of God. This corruption will not be solved by an election. The corruption within the executive branch of federal government, including federal law enforcement, is so vast the 118th Congress can only begin the herculean task of rooting it out. The hard work of special investigations, military tribunals, suspension of funding, indictments, impeachments, and imprisonments will take years. This work is what the oath now requires of all Congressmen and Senators. This work is what the oath of office will require of the next President. I wonder who, if anyone, is willing or able?"
---
Help CompassCare expand to reach and serve even more women seriously considering abortion in NY and across the United States.