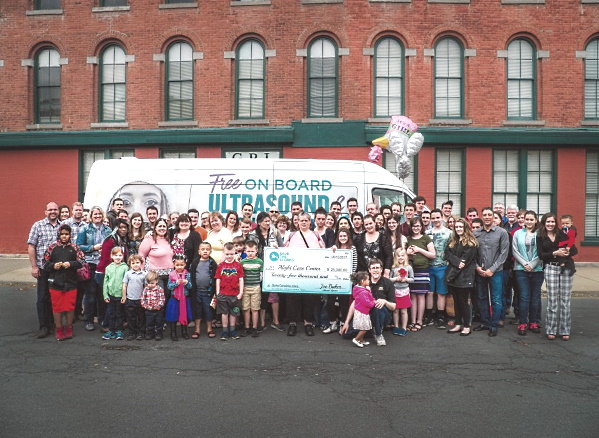 When a woman faces an unplanned pregnancy, she feels trapped, alone, without choice, coerced by her circumstances or relationships. She says to herself, "I need to have an abortion." She is lost on the storm-tossed sea of a world that calls her 'free.' The little rowboat that is her life is battered by the bitter winds of cultural expectations, swamped by the crashing waves of reality.
So, since 1999, the Church acting through Alight Care Center has been erasing the "need" for abortion in her mind. How? In faith, the Church through Alight walked on the water with Jesus and got in that boat with her. Women considering abortion now had a choice, now had someone straining at the oars with her, providing the support and security she needs, giving her the courage to look past the present storm into a sunny future after having her baby. All this effort empowers her to say, "No," to abortion.
For 23 years, the Church through Alight Care Center walked on these tiring and sometimes dangerous seas, that they might save one more from shipwreck. And they walk those waves still, with nobility and generosity, their Holy Companion always whispering in their ear the question, "Can we save more?" Their answer has always been, "Yes, Lord." So, Alight leveled up in 2005, expanded capacity in 2010, and then, to reach even more in 2017, christened a cutting-edge mobile medical van.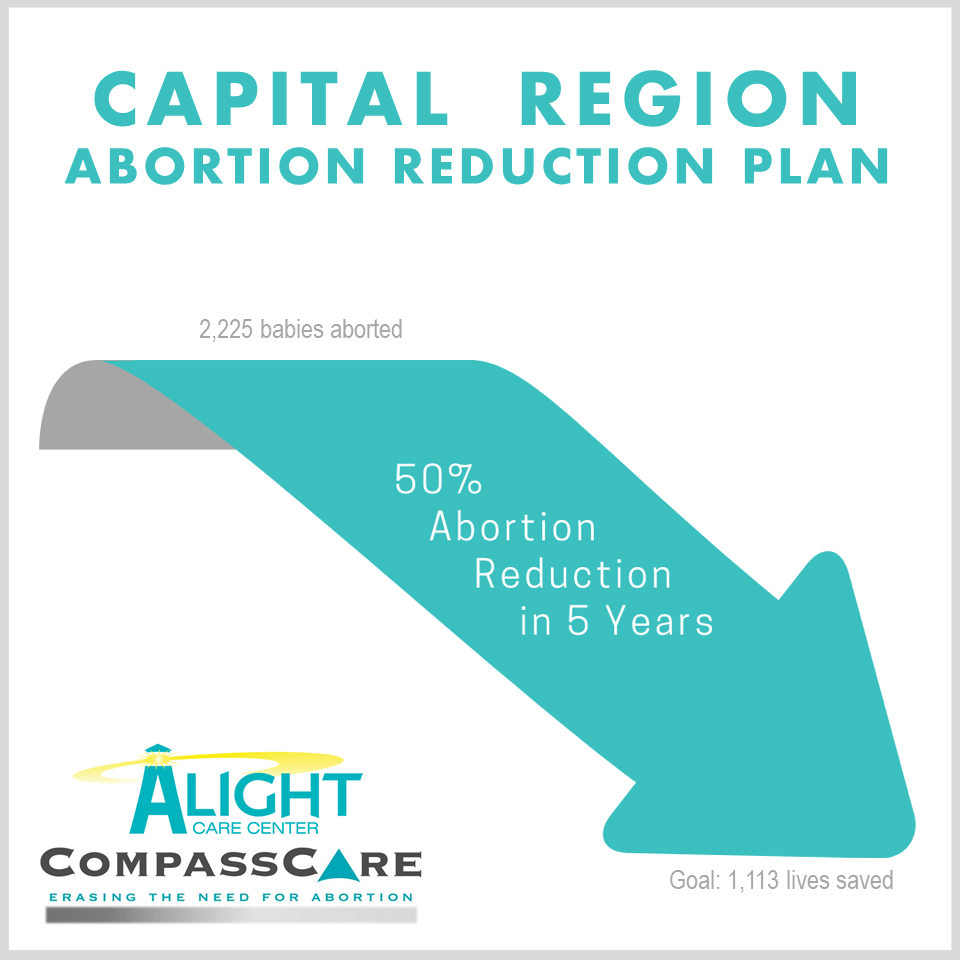 The Capital Region is the third largest abortion hub in New York, the abortion capital of the U.S. And as Alight treads the waves, the Lord's question continues to echo in their heart, "Can we serve more?" Is it possible to help so many more women have their babies that the booming abortion business in the Capital Region can no longer stay open by performing abortions alone? The answer to that question in Rochester was, "Yes," where God through CompassCare provided a 50% reduction in abortion. The answer to that question in Buffalo is, "Yes," where God through CompassCare is now reaching 1 in 3 women considering abortion, up from 1 in 100 just two years ago.
Make no mistake, the mountain of abortion in the Capital Region is massive. The abortion industry is entrenched in the culture, well-funded by tax dollars and favored by politicians. The Church has none of these things, and like the Philistines in the days of Saul, they know it. And yet, the Church working through Alight since 1999 has essentially proclaimed with Jonathan in the presence of our great God, "Come and let us cross over to the garrison of these uncircumcised; perhaps the LORD will work for us, for the LORD is not restrained to save by many or by few" (1 Sam. 14:6).
God's people in the Capital Region have already gone up to battle for life and in so doing have said to CompassCare and the Church of Western New York as Jonathan said to his armor-bearer, "Come up after me, for the LORD has given them into the hands of Israel" (1 Sam. 14:12b). And like Jonathan's armor-bearer, the Church in Western New York through CompassCare has said, "Do all that is in your heart; turn yourself, and here I am with you according to your desire" (1 Sam. 14:7). It is in this spirit of comradery that CompassCare has adopted the critical life-saving mission of Alight.
The Church in the abortion hubs of Rochester and Buffalo are seeing God work hundreds of amazing life-saving miracles through the pro-life medical teams of CompassCare. And now the Church in Western New York is excited to unite forces with the Church in the Capital Region to level up once again, investing thousands of manhours and hundreds of thousands of dollars, building the marketing and medical infrastructure to reach and serve 25% of all women in the Capital Region seriously considering abortion by April of 2022!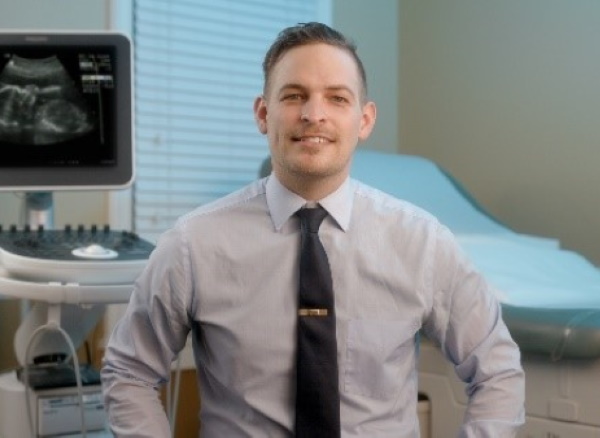 There is much work to be done in order to be ready to serve so many more women considering abortion by April. In adopting the mission of Alight, so far CompassCare has:
Trained and sent a full-time Capital Region Executive, Micah Stockdale, dedicated to making the Capital Region abortion reduction vision a reality.
Hired and started training the medical team to serve 10X more abortion-minded women.
Developed and scheduled the launch of an aggressive and proven patient marketing campaign.
Actively pursuing the purchase of a medical facility large enough to handle a 10X patient load increase.
If you are interested in deepening your partnership to cut abortions in the Capital Region by 50% in 5 years, learn more at ErasingTheNeed.com/CapitalRegion. Opportunities to serve, pray, and give abound.
On behalf of the women we hope to serve and the babies we will help them have, the Church in Western New York, the Alight Care Center team, and Micah Stockdale, CompassCare's Capital Region Executive, it is an honor serving alongside you for our great King Jesus, protecting the weakest and most vulnerable among us, just as He did for us on the cross.
Together in Christ,



Rev. James R. Harden, M.Div.
President/CEO
P.S. Go to ErasingTheNeed.com/CapitalRegion to learn how you can deepen your investment, saving the lives of preborn boys and girls from abortion by supporting their mothers.