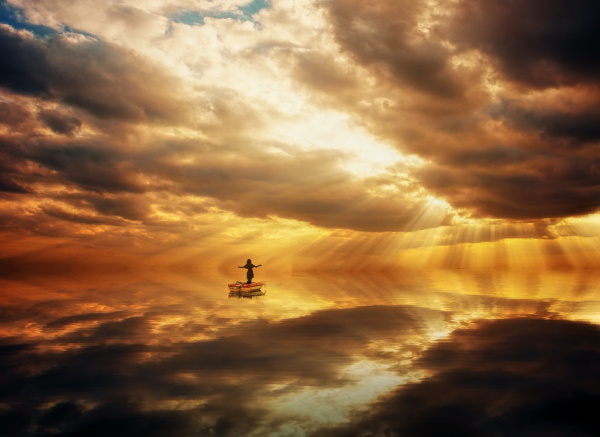 How would you describe an ocean sunset to a man born blind? On the other hand, how would a blind man describe the infinite details of that same nightfall, his heightened senses sketching the moment for his soul with details more profound than a seeing person could ever know? Christians, perceived to be blind by a self-proclaimed enlightened world, are tasked with describing the glory of an unseen God.
When a woman faces an unplanned pregnancy, she cannot see the radiant beauty of a future past the storm clouds of her crisis, distracted from peace by roaring waves of emotion and the shifting sands of circumstance. That is all she can see. But she needs someone next to her on her life's windswept shores, describing to her through care and kind words, the quiet but powerful Son of God, until the face of her soul begins to sense the warmth of His presence. And, as the eye is drawn to the light, her soul turns to glimpse the source and finds herself face-to-face with the wonder that is His salvation. When God's glory and majesty dawn upon us, we can no more pay attention to a personal crisis than one could feel big while standing on the yawning edge of the Grand Canyon.
Man, thinking he knows better than God what is good and evil, taints the wellspring of his thoughts, deluded into believing he is self-sufficient. The resulting decisions poison all relationships and cause death. So, God quarantined us from living an eternal existence apart from Him until He could make a way to heal us. God has made a way to heal us through Jesus, reuniting God and man, heaven and earth.
Everything changes in the glorious presence of God, including us, especially us. Our senses are awakened to reality, to God's holy glory, set in stark contrast to our dark and small sinfulness. Our starving and emaciated soul rises from its slumber, seeking a breakfast of righteousness in the house of God. The light of a purpose beyond pleasure illuminates the path of an immortal life, a walkway leading to a new home, toward a celestial city where God, our new Father, dwells with His adopted sons and daughters.
When we see God, we see the future. The simple fact is that in Jesus, God took on flesh to give us a future. Fulfilling the wrath God required by His perfect justice at the cross, Jesus' resurrection opens the curtain for the light of God's perfect mercy to come flooding into the dark chamber of our isolation. He is the firstborn from the dead, life dawning upon a dying world. The future – our future – is seen in Jesus, if in fact we have died with Him. Our bodies too will be raised up from death, for "He who raised Christ Jesus from the dead will also give life to your mortal bodies" (Rom 8:11).
And then what? We who live in Him will with Him "reign for ever and ever" (Rev 22:5). "He who did not spare His own Son, but delivered Him over for us all, how will He not also with Him freely give us all things?" (Rom 8:32).
This glorious future is envisioned by John in the book of Revelation, stretching the limits of language, painting a glorious portrait of God and His family together at last, because of Jesus. He describes the canvas by what is not there—like the sea, because chaos has been done away, like tears, because joy reigns, like death, because it is swallowed up in life, and like a temple, because God Himself is the temple. Then He begins to fill the scene as if on top of a high mountain, seeing images like the massive capital city New Jerusalem coming down out of the heavens to earth with foundations of tribes, cornerstones of apostles, a city wall of gems, gates of pearl that never close, a boulevard of transparent gold with the river of the water of life running through it, sprung from the very throne of Jesus. And along the banks of this river is not just a single tree of life but a whole forest of trees of life, constantly bearing fruit with leaves that can heal, and all basking in glory as an unending day (Rev 21-22).
Why this vision of God and glory? Because "He who overcomes will inherit these things, and I will be His God and he will be My son" (Rev 21:7). The vision imparts courage to persevere in love in a world gone cruel, in a world so dark women believe they have to choose between their life or their baby's life. How then ought we live in the meantime? "Loosen the bonds of wickedness… let the oppressed go free and break every yoke… [cover] the naked… and do not hide yourself from your own flesh" (Is 58:6-7). "Then your light will break out like the dawn… if you remove the yoke from your midst" (Is 58:8a, 9b).
In Christ,



Rev. James R. Harden, M.Div.
President/CEO
P.S. For the glory set before us, let us endure as Christ, for women and their preborn boys and girls.
---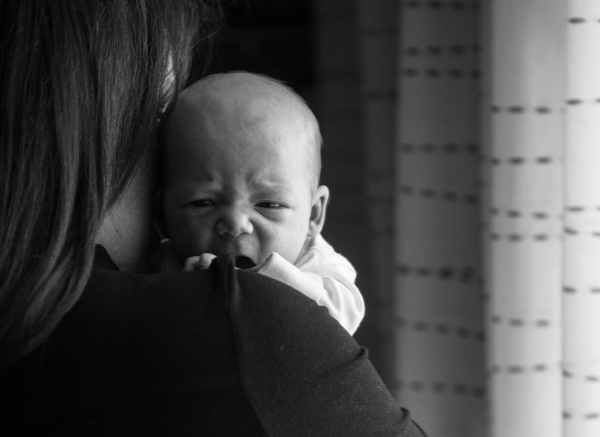 "You Know… We Could Make this Work."
Darlene and her husband Matt just had their third child last year. The last several months with their new daughter proved extremely challenging, with many sleepless nights soothing her. Darlene and Matt decided it was time to be done with childbearing and scheduled a surgery to that end. But, just before the surgery, Darlene discovered she was pregnant again. Overwhelmed with the news, they determined to get an abortion. Read more.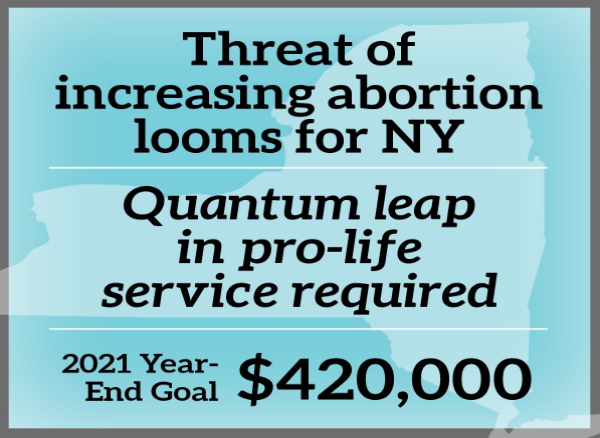 Abortion Is Dramatically Changing in America
CompassCare Prepares for Quantum Leap: The Church through CompassCare is responding to two emerging abortion dynamics in order to serve thousands more women, saving more babies! Planned Parenthood and Gov. Hochul are preparing for an influx of women coming to NY for their abortion. In-home chemical abortion represents nearly 50% of all abortions. How is CompassCare preparing? Read more.