Managing the Unintended Consequences of National Pro-Life Success Post-Roe
OBJECTIVE
Cut abortion 50% in New York State, creating a repeatable model for medical pregnancy centers in other abortion hub states including CO, IL and CA to do the same in post-Roe America.
PROBLEM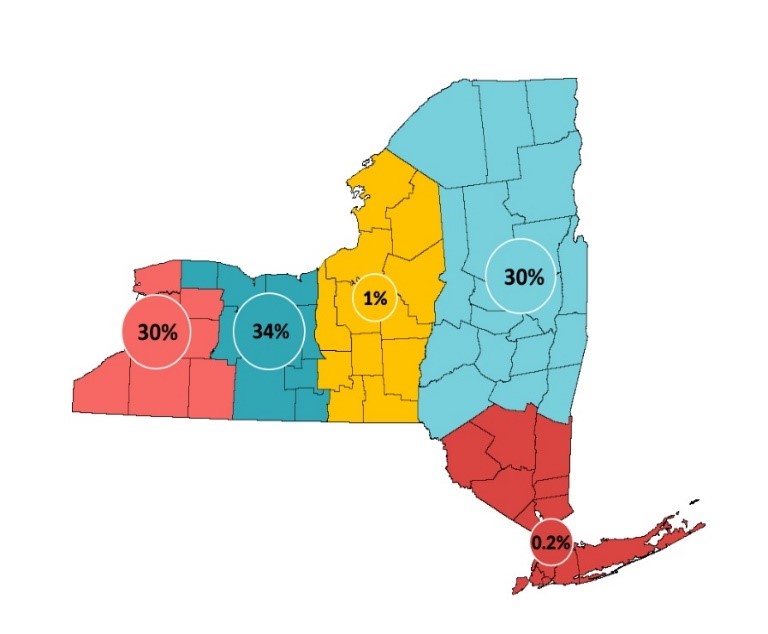 NY is the abortion capital of the US.
Overturning Roe has redrawn the abortion battlelines, centralizing surgical abortion to states like New York and pushing chemical abortion online.
Abortion giant Planned Parenthood has built infrastructure anticipating an influx of out-of-state patients.
In 2019, NY politicians made abortion a fundamental human right, paving the way for abortion tourism.
The pro-life community in NY does not have the infrastructure and medical staff to serve more than 2% of current abortion market of residents
Currently over half of abortions are chemical, with a growing number delivered via telemedicine. Chemical abortion is four times more dangerous than surgical.
STRATEGY
Reduce NY abortions in two ways. 1) Add CompassCare medical offices (Exhibit A) in additional abortion hubs like NY's Capital Region and down state. 2) Establish a Statewide TeleCare patient service network to compete directly with the online abortion industry (currently in process).
PILOT RESULTS
Establishing service capacity of over 25% in Rochester lead to a 50% reduction in abortion over 9 years.
In the second year of operation in Buffalo, CompassCare saw over 450 patients in 2021 with an 18% service capacity, and is now at full capacity and on track to see a 50% abortion reduction by 2025. Capital Region services began in Apr. 2022, with a new facility and a team able to serve 30% of the market by Dec. 2022.
A comprehensive TeleCare platform launched upstate in August 2022. TeleCare is launching in November 2022 in NYC. CompassCare projects saving 44,000 lives in NY by 2029 that would otherwise be lost to abortion (Exhibit B).
OPPORTUNITY
CompassCare's results show 1) more lives can be saved from abortion, and 2) there is a proven methodology to save them. This requires godly donors in order to financially seed the costs of the next location and TeleCare opportunity
$1,140,000: Provides services to 2,000 women, saves 1,000 babies with 500 women coming to Christ.
$570,000:

Provides services to 1,000 women, saves 500 babies with 250 women coming to Christ.
$285,000: Provides services to 500 women, saves 250 babies with 125 women coming to Christ.

$142,500

:

Provides services to 250 women, saves 125 babies with 63 women coming to Christ.
*Based on CompassCare's experience of served women seriously considering abortion, approximately 50% choose life, 25% receive Christ.
GIVE
EXHIBIT A: Why CompassCare?
CompassCare has earned a national reputation for helping pregnancy centers increase their service capacity and overall performance in helping abortion-minded women have their babies.
| | | |
| --- | --- | --- |
| | 2002 | First medicalized Pro-life pregnancy center in NY. |
| | 2004 | CompassCare began training pregnancy centers in NY and the nation to restructure and improve performance. |
| | 2005 | Pioneered a now nationally accepted philosophy of ministry and service model in the pregnancy center movement. |
| | 2007 | Created a training system to help other pregnancy centers nationwide serve more women more effectively. |
| | 2012 | Open-sourced patient service systems. An estimated 650 pregnancy centers nationwide are using CompassCare's language or service systems to some degree with several attempting to replicate the concepts on their own. |
| | 2015 | Launched medical process management software, Optimize, to help pregnancy centers actively engage continuous improvement in services for women seriously considering abortion. |
| | 2018 | The NYS Abortion Reduction plan was initiated as CompassCare adopted three pregnancy centers in the Buffalo region, the largest abortion-hub in the state outside of NYC. |
| | 2021 | CompassCare's adoption of a pregnancy center in NY's Capital Region, state's third largest abortion hub. |
| | 2022 | When CompassCare's Buffalo office was firebombed by Jane's Revenge in June, CompassCare temporality relocated so as not to lose a single day of life-saving patient services. CompassCare managed a national PR strategy to protect pregnancy centers from further violence and censorship while developing and launching a national TeleCare initiative. |
CompassCare is ideally situated to stay on the leading edge of service. New York is an aggressively pro-abortion state with the most permissive abortion laws and the highest abortion rates per capita than any other state in the Union. CompassCare has a track record of overseeing the abortion numbers cut in half while the abortion industry scrambles to stay afloat by diversifying services, reducing staff, consolidating administration, or simply going out of business.
EXHIBIT B: Status
CompassCare in Rochester intentionally developed a service process and infrastructure with the capacity to reach and serve 25% of the abortion market to disrupt the local abortion industry's business plan. It worked. Abortion in Rochester plummeted 50% from 2008 to 2016, a decline that was farther and faster than any abortion hub market in the nation.
The strategy is to replicate Rochester's effectiveness in the state's other abortion hubs, with a five-year 50% abortion reduction goal in each market. With in-person services available at three regional offices, CompassCare only has access to 15% of all women in NY at-risk for abortion. Adding statewide TeleCare gives pro-life pregnancy centers access to an additional 20% of all at-risk women for a combined total access of at least 35%.