GOAL: Increase the pro-life service capacity in New York to cut abortions in half by adding CompassCare offices in each abortion-hub city across the state.
BREAKING: CompassCare Expands to Capital Region
CompassCare prepares for a quantum leap into the Capital Region, the third largest abortion hub outside NYC, by adopting Alight Care Center. Plans are developing to launch life-saving services in April, 2022.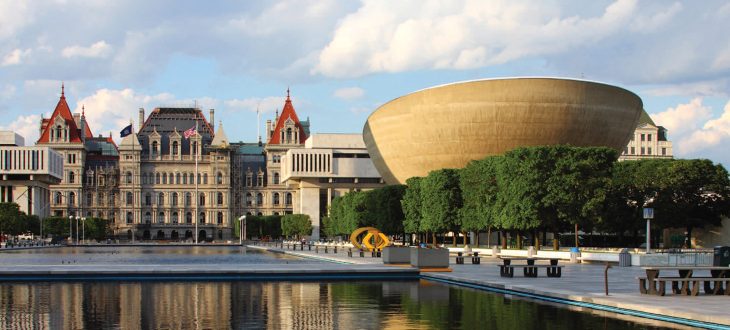 Abortion Is Rapidly Changing in America
The Church through CompassCare is responding to two emerging abortion dynamics in order to serve thousands more women, saving more babies!
Learn More
Managing the Unintended Consequences of National Pro-life Success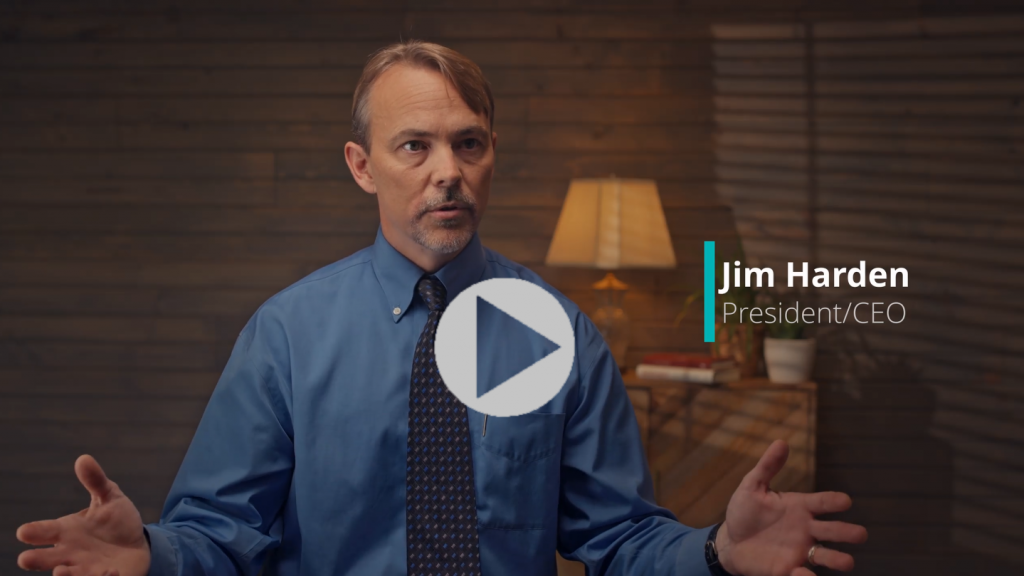 Problem
If Roe v Wade is overturned, abortion battle lines will be redrawn at the state level.
NY politicians declared abortion a fundamental human right, paving the way for abortion tourism.
NY is an abortion-hub state and the abortion capital of the US.
The pro-life community does not have the infrastructure and medical staff to serve more than 2% of current abortion market.
Implement CompassCare's proven service process in all major abortion markets, by adopting and transforming existing pregnancy centers. A single organization with centralized administration is the most efficient and effective path to abortion reduction.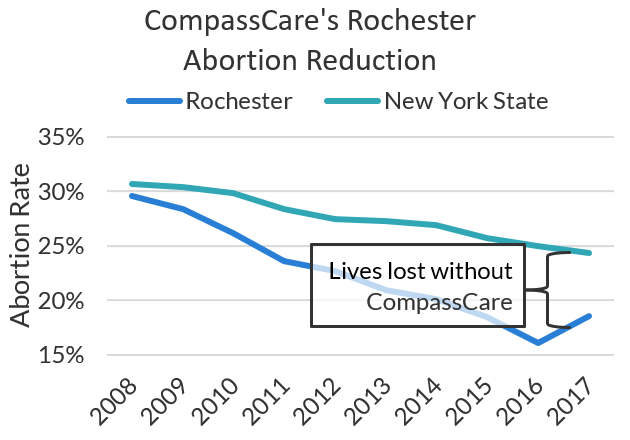 Pilot Results
After adopting and consolidating three pregnancy centers, Buffalo is on track to duplicate the results in Rochester. This plan will cover all of Upstate NY by adding Syracuse and Albany, and one location in New York City. Statewide, CompassCare projects saving 44,000 lives by 2029 that would otherwise be lost to abortion (Exhibit B).
Opportunity
CompassCare's results show 1) more lives can be saved, and 2) there is a proven methodology to save them. This requires godly donors to get ahead of the next location opportunity (Exhibit C).

Current Status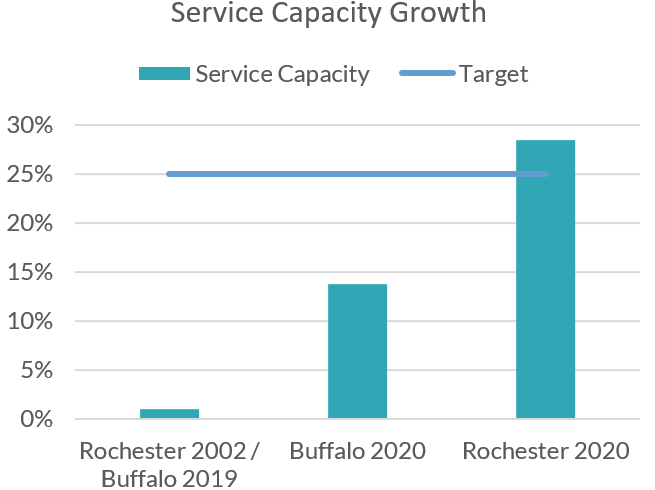 CompassCare in Rochester intentionally developed a service process and infrastructure with the capacity to reach and serve 25% of the abortion market to disrupt the local abortion industry's business plan. It worked. Abortion in Rochester plummeted 50% in the last nine years, a decline that is farther and faster than any abortion hub market in the nation of which we are aware.
The strategy is to replicate Rochester's effectiveness in the state's other abortion hubs, with a five-year 50% abortion reduction goal in each market. CompassCare's Buffalo pilot is working. As the largest abortion hub outside of NYC, the first 9 months has seen twice as many lives saved from abortion as previous year's combined total of the three pregnancy centers adopted. During this time, Buffalo's capacity to serve the abortion market grew from 1% to 14%. Based on Rochester's experience, the Buffalo pilot is on track to cut abortions in half by the end of year five.
2002
First medicalized Pro-life pregnancy center in NY.
2004
CompassCare began training pregnancy centers in NY and the nation to restructure and improve performance.
2005
Pioneered a now nationally accepted philosophy of ministry in the pregnancy center movement that is a data driven, continuous improvement system called a Linear Service Model. CompassCare created the first patient database for service delivery with metrics to evaluate service performance and analyze targeted service delivery changes for continuous improvement.
2007
Created a training system to help other pregnancy centers nationwide serve more women more effectively by implementing CompassCare's systems.
2012
Open-sourced patient service systems. Now an estimated 550 pregnancy centers nationwide are using CompassCare's language or service systems to some degree with several organizations attempting to replicate the concepts on their own.
2015
Launched medical process management software, Optimize, to help pregnancy centers actively engage continuous improvement in services for women seriously considering abortion.
Get involved today!