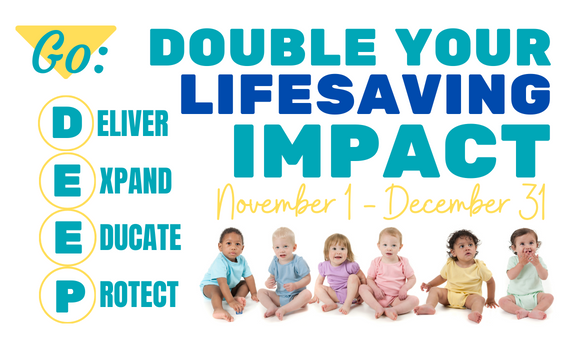 For Immediate Release: November 20, 2023
---
New York based pro-life Medical Network, CompassCare—firebombed last year by pro-abortion domestic terrorists—receives over a half million dollars in matching funds to expand into the heart of the American abortion capital. CompassCare set a goal to raise $1.2 million before December 31 in order to launch medical offices in Brooklyn, Queens, and the Bronx in January 2024.
New York City is the headquarters of the billion-dollar global abortion empire. Nearly 40,000 abortions occur annually citywide with Brooklyn leading the way at 13,000, the highest number of any U.S. county. In a post-Roe America, New York State spent millions of tax payer dollars to increase abortion industry infrastructure, promote abortion tourism, and protect abortionists from criminal prosecution. All this while vilifying the abortion industry's only competition, pro-life pregnancy centers like CompassCare, in order to shut them down.
Despite the headwinds and even firebombings from what the FBI finally admits is "domestic terrorism," instead of hitting the brakes, CompassCare accelerated. CompassCare CEO, Rev. Jim Harden, says, "You don't catch the flack unless you are flying over the target. New York seeks to imprison women facing unplanned pregnancy in hopelessness, robbing them of the support needed to enable true choice, support that only pro-life pregnancy centers provide, for free."
Regarding the uphill battle pro-life groups face in New York, Rev. Harden says, "We are more than willing to fight digital censorship, weaponization of legislation, marginalization by legacy media, and even violent pro-abortion extremists if that is what is required to continue saving women and babies from the serial malpractice and mercenary abortion empire who get their political puppets re-elected." Rev. Harden continues, "Abortion is a mountain too big for government, or medicine, or education, or economics to move. No sane woman wants to have an abortion. She feels trapped. Abortion is a God-sized mountain and pro-life Christians are moving it, one woman, one baby at a time."
Expert on medical ethics in women's reproductive health, Rev. Harden says, "The original Hippocratic Oath to which doctors swore for over two thousand years specifically forbade abortion. The purpose of medicine is to heal and maintain the health of the patient, abortion does neither for the mother or the baby."
Donors committed $150,000 matching funds for "#GivingTuesday" and $500,000 more by year-end to double the life-saving impact of every donation to help CompassCare save women and babies from abortion with ethical medical care and comprehensive support. Encouraging pro-life people to take advantage of this life-saving opportunity, Rev. Harden says, "You can give a baby the gift of a birthday! And your financial impact amassed precisely where the abortion battle is being fought, in the abortion capital of New York, can now be doubled through December 31, up to $650,000. Give at 2XImpact.life."
---
Help CompassCare expand to reach and serve even more women seriously considering abortion in NY and across the United States.