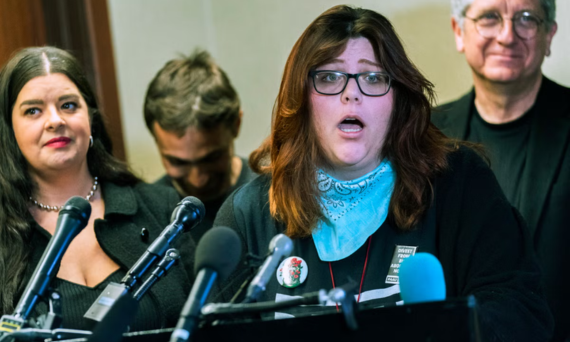 For Immediate Release: August 31, 2023
—
Wednesday August 30, after activist U.S. District Court Judge Collen Kollar-Kotely ordered that five peaceful pro-life advocates be held in federal prison to await sentencing as if they were violent criminals. Attorneys from the Chicago-based Thomas More Society filed an emergency petition for their release.
Assistant U.S. Attorney General Kristen Clarke in charge of the Justice Department's Civil Rights Division indicted peaceful pro-life activists Lauren Handy and eight others for conspiracy against rights and a FACE Act offense. Clarke is known to be pro-abortion. Handy and four of her friends were convicted on both counts in U.S. District Court in Washington D.C. today, August 29. They were taken into custody without sentencing until the completion of a second trial of the remaining defendants. They each face up to $350,000 fines and 11 years in prison for peacefully protesting at a late-term abortion facility in Washington D.C. after being given 115 fully formed babies from a medical waste company hired by the abortionist to destroy the remains.
The Thomas More Society Senior Legal Counsel, Martin Cannon, defending Handy and friends promised to appeal. This appeal could give the court the opportunity to overturn the Clinton-era FACE Act, which many pro-lifers deem as unconstitutional. It was designed and has been almost exclusively used to quell public pro-life activity under the auspices of conspiring to violate a woman's federal right to abortion. The Dobbs case overturning Roe found no such federal right exists.
Rev. Jim Harden, CEO of firebombed medical network in New York, decries the unequal enforcement of the FACE Act targeting peaceful pro-life people while pro-abortion Antifa terrorists can firebomb our offices and threaten our lives while getting off "scot-free."  Harden went on to say, "The conviction of Lauren Handy of a conspiracy against rights and a FACE act violation is yet another example of how this Act is America's version of Stalin's Article 58, using an activist court to violate the first amendment rights of Lauren and her friends."
Pro-abortion U.S. District Court Judge Collen Kollar-Kotelly used Antifa arguments during the case to argue for a Constitutional right to abortion. Antifa insists that pro-life people enslave women by forcing them to have their babies relegating them to a permanent socio-economic underclass. Rev. Harden wonders if in allowing this miscarriage of injustice to occur in her court puts Judge K in violation of the third KKK act of 1871 listed in the 42 U.S.C. section 1983. Section 1983 authorizes injunctive relief to anyone, like Lauren Handy, who was deprived of their constitutional rights.
---
Help CompassCare expand to reach and serve even more women seriously considering abortion in NY and across the United States.