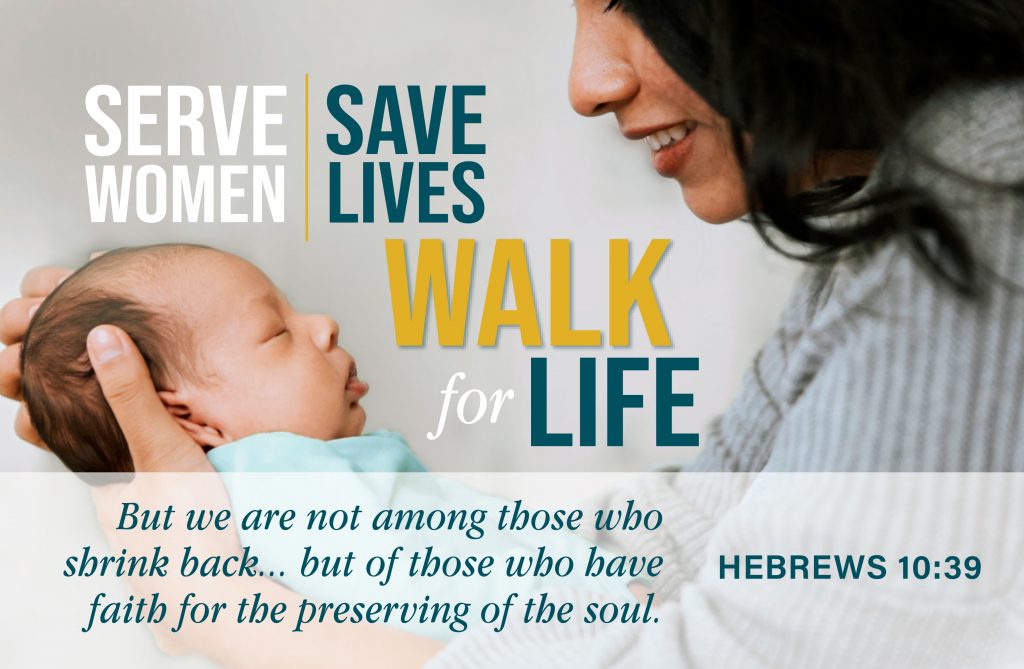 Since that infamous day of the Supreme Court's shameless display of injustice in 1973, the Church's walk for life has made great strides. That Court arbitrarily insisted that abortion is legal simply because they say, "the word 'person' does not apply to the unborn." If recent times tell us anything, it is that we have far to go in our struggle for a world where all people are protected in law and loved in deed.  What must we do? "And let us consider how to stimulate one another to love and good deeds, not forsaking our own assembling together…but encouraging one another, and all the more as you see the day drawing near" (Heb. 10:24-25). CompassCare's NEW Walk for Life Weekend is a great way to realize this verse.
The Walk for Life Weekend musters both veterans and new recruits in the battle for life, rallying together to let their prophetic voice reverberate in the valley of the shadow of death (Ps. 23:4). The weekend is designed to facilitate everyone's ability to save more lives by serving more women. It kicks off on Friday, April 30 at 7:00 PM with a one-hour, live, online rally, inspiring the Church with testimonies of lives saved, explaining the record-breaking, life-saving mission results of 2020, and casting the vision for 2021 and beyond. And for those who are ready to get back out there, the Walk for Life Weekend culminates on Saturday, May 1 at 9:00 AM for the traditional in-person Walk.
But to what 'day' is the Hebrews passage quoted above, referring? Peter calls it the "day of eternity" (2 Pt. 3:18c). It is the moment when this dark age of sin is overtaken by the dawn of the new age as the bright Morning Star, who is Jesus, rises, inaugurating a new heaven and new earth (Rev. 22:16). But how will we be able to "see the day drawing near"? What are the clues? Paul tells Timothy, "But realize this, that in the last days difficult times will come. For men will be lovers of self, lovers of money…unloving, irreconcilable, malicious gossips, without self-control, brutal, haters of good, treacherous, reckless, conceited, lovers of pleasure rather than lovers of God, holding to a form of godliness, although they have denied its power; Avoid such men as these. For among them are those who enter in households and captivate weak women weighed down with sins, led on by various impulses" (2 Tim. 3:1-6). One wonders what could happen to a woman 'led on by various impulses' when, unable to 'avoid such men as these,' is captivated by them—men who are characterized as 'lovers of self' and 'without self-control' and 'lovers of pleasure.' Could one of these types of men deceive a woman into thinking she is loved in order to dehumanize her as merely an object for personal gratification, impregnating her, and leaving her to fend for herself? Yet this unloving behavior has become the norm. Further signs of the day drawing near?
Jesus also described the signs leading up to this day saying, "Because lawlessness is increased, most people's love will grow cold. But the one who endures to the end, he will be saved" (Mt. 24:12-13).
If we find ourselves in the midst of these sobering markers, how do we endure? How do we keep from letting our love grow cold? Back to Hebrews: By "[stimulating] one another to love and good deeds" (Heb. 10:24). How do we encourage each other to love in an ever-darkening world when good deeds are often rewarded with reproach, affliction, and betrayal? (Mt. 5:11-12). By assembling ourselves together; by being with other believers, and all the more often, the darker it gets. Christians are people of light, undimmed by the haze of impossible situations. Christians are people of faith, trusting the One who has overcome the world (Jn. 16:33).
Despite the fact that we toil against the prevailing culture, against the world's great wealth and power, and despite the fact that we do not see an end to the bloodletting, with eyes of faith, we must walk on. We must never stop the uphill slog toward the "city of the living God" (Heb. 12:22). This is our spiritual act of worship to Him (Rom. 12:1), our service toward the weak and vulnerable (Jam. 1:27). We must never give up on the power of the Church, which is our enduring faith in Jesus to overcome this world, running right through into the finish line of eternity. For the truth is that no power can stop people of faith from doing the work of their Father. And come what may, whether the circumstances look like a triumph or disaster, it does not matter because the Lord is for us (Rom. 8:31). We are the "apple of His eye" (Zech. 2:8). As a wise man once said, "Anyone who reaches out to harm God's people and the work they do in His love for others, pokes God Himself right in the eye." So, we must soldier on (2 Tim. 2:3) in love and good deeds, "Never [taking] your own revenge…for it is written: 'Vengeance is Mine, I will repay,' says the LORD'" (Rom. 12:19).
Despite legislative attacks on pro-life organizations in New York, despite the promises of the new ruling elite to further obscure the truth that all humans without qualification ought to be protected under the law, and even despite the COVID shutdowns, God blessed the Church's faithfulness, making 2020 CompassCare's most effective, life-saving year ever! 2020 saw a 15% increase in babies saved (390) and a 35% increase in women submitting their lives to Jesus (191).
The Walk for Life Weekend is designed to spur the church on to love and good works. In order to help 1,025 women considering abortion in Buffalo and Rochester, while also expanding services to another abortion hub region in the nation's abortion capital, the Walk for Life Weekend needs to raise $584,000 (it costs $570 to help one woman to have her baby).
You have demonstrated your passion to serve women and save lives. To do so again through the Walk for Life Weekend, go to CompassCareWalk.com to register online and/or use a printable pledge form. If you are booked for the Walk Weekend, you can still participate as a Virtual Walker and walk wherever and whenever it is convenient. 
Please prayerfully consider:
Becoming a pledge-raising walker this year. As a pledge-raising walker, you are able to both raise awareness in the community regarding the equal value of all humans, as well as ensure that women considering abortion will always have a place to go to receive ethical medical care and community support.


Encouraging a pledge-raising walker from your church by sponsoring them, helping them reach their fundraising goal.
Because we are all made in the image of God, we are all equally valuable and deserving of protection. Abortion is not just another social issue. It is a fundamental misunderstanding of what it means to be human under God. As Richard John Neuhaus once said, while abortion is "the greatest human rights cause of…all times" it is "not a battle of our choosing. We are not the ones who imposed…the lethal logic that human beings have no rights we are bound to respect if they are too small, too weak." However, principalities and powers will not prevail (Rom. 8:37-39), for our cause is just and our God's promise true. "We have been recruited for the duration…we shall not weary, we shall not rest."
Together saving lives,




Rev. James R. Harden, M.Div.
President/CEO
P.S. The Walk for Life Weekend starts with a live, online rally Friday, April 30 at 7PM and crescendos at the traditional, in-person Walk on Saturday, May 1 from 9AM-12PM at Buffalo's Delaware Park and Rochester's Highland Park Bowl. Go to CompassCareWalk.com to register!