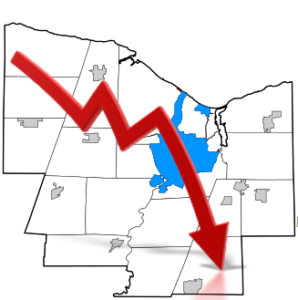 Abortion plummets in Monroe County by 42%! The latest round of statistical data released via New York State Vital Statistics reveals that over the last seven years abortion is down 21% statewide, with Rochester and Monroe County leading the way. Nowhere else in the nation, that we are aware of, has abortion dropped so far and so fast as in Monroe County, without any change in abortionists or abortion legislation.
The abortion data released Monday, April 4 shows that abortion continues to decline in America's abortion capital. In New York City, the abortion rate (abortions/pregnancies) fell 4% in just one year. This brought the abortion rate down to 33%, a 23% drop in the City's abortion rate over seven years. But the most dramatic drop of 42% occurred in the upstate abortion hub of Rochester, CompassCare's hometown! Rochester and Monroe County remains the only upstate region enjoying a consecutive year over year reduction—a 5% decrease from 2013 to 2014—even though the abortion rate in all other upstate counties rose a combined 5.7%.
National pro-abortion groups argue that declines in abortion happen for two reasons: 1) Increased access to contraception and 2) Decreased access to abortion. Yet these reasons do not account for the phenomena in NY. Not only is NY one of the most legislatively permissive states in the union, with more abortions per capita than any other State, apparently contraceptive use has played no measurable role either. Meaning, if abortion rates were declining because women were using contraception more effectively, then the number of pregnancies would be declining just as fast as abortion. But pregnancy rates have remained relatively unchanged. Women are getting pregnant at approximately the same rates but are simply not choosing abortion nearly as often when facing pregnancy.
One of the major contributing factors in Monroe County's sharp decline is the black community's abortion rate. While the black community is a minority they have been the abortionist's primary targets. In 2010, 36% of all black pregnancies ended in abortion, but by 2014 that rate had shrunk to 28% (see graph on reverse). While all ethnicities declined in their use of abortion, the black community was responsible for the majority of the reduction. This trend is unique as the number of pregnancies ending in abortion among blacks in New York State hovers at around 47%. What's happening in Rochester? It is no coincidence that CompassCare participated in a concerted coalition effort to reach the black community during this time frame raising awareness among minority leaders and running targeted ad campaigns.
Women have abortions because they feel like they have no choice. CompassCare gives women back their true autonomy with ethical medical care and comprehensive community support. This support empowers them to make the most difficult choice and have their baby. These numbers say that the community cares and is rallying to support women through organizations like CompassCare. These numbers demonstrate that more women feel like they can say 'no' to abortion. That's true choice.
It is our estimation that NY is the abortion bellwether for the U.S. So, as goes NY relative to abortion, so goes the U.S. This abortion decline is a good sign for everyone in every state. Moreover, we think the total state reduction of 21% represents the elimination of the profit margin of the unethical abortion businesses, placing them under financial stress, especially in Rochester. It is estimated that 100% of the 2013-2014 drop in Monroe County abortions are represented just in CompassCare's pregnant abortion-minded patients who decided to have their babies! (See graph on reverse).
Our dream, mine and yours, of seeing abortion erased from our community is happening! Let's keep up the pressure to erase the need for abortion together, simply by empowering women to have their babies—serving her so she can save him, one woman, one baby at a time. She has the right to say NO to abortion. CompassCare gives her the ability. Let's celebrate together! Let's raise awareness together! Join CompassCare at the 2016 Walk for Life on Saturday, May 21 at the Bowl in Highland Park.