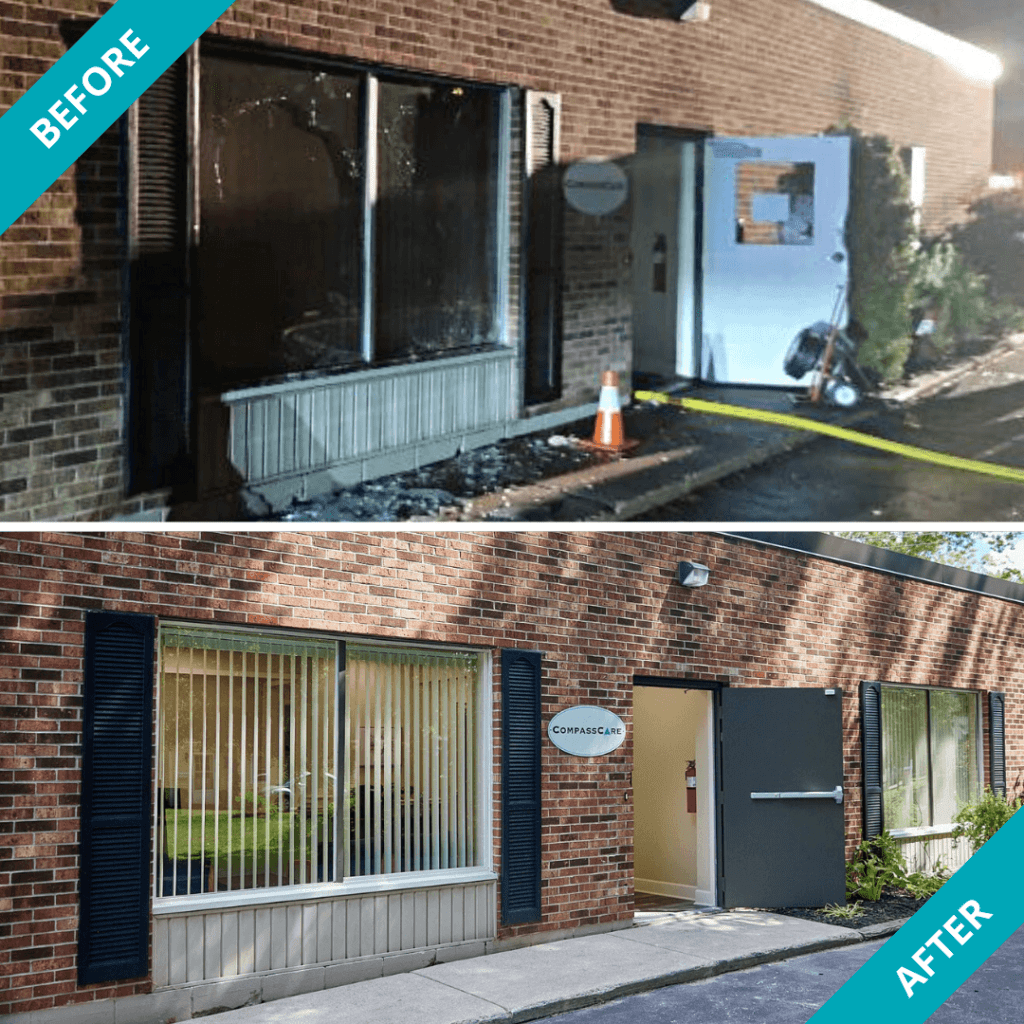 Early Tuesday morning, June 7, CompassCare's pro-life medical office in Buffalo was brutally firebombed causing catastrophic damage to the building. Like the people of God in Nehemiah's time, God gave the Church of Buffalo a mind to work under threat of further attacks. Thanks to the efforts of God's people, the breach in the pro-life wall has been repaired in just 52 days! Thank you to everyone that prayed, served, and gave to repair the current structure and Rebuild Bigger in preparation for an expected 30% increase in women traveling to NY for abortion.
Cost to Rebuild Bigger: $265,000
THANK YOU!
[wppb progress=100 color=#31a7b5 fullwidth=true location=inside]
Thankfully the cost to repair the existing structure is covered by insurance. The above is what it will cost to add more space to serve more women.
---
Grand Reopening Ceremony of Buffalo Medical Office 52 Days After Firebombing
---
What Can You Do?
Pray
Pray for the following critical needs to accomplish the 52-day rebuild goal:
• The Town of Amherst building permits to be issued quickly.
• Access to building materials of all kinds.
• Funds to cover the costs of the addition, approximately $265,000.
• Tradesmen and volunteers with a fighting spirit.
Are you or someone you know able to volunteer to help Rebuild Bigger?
Help CompassCare rebuild and expand
the Buffalo office to reach and serve even more women seriously considering abortion.
What Happened?
Early Tuesday morning, June 7, CompassCare's pro-life medical office in Buffalo was brutally firebombed. The pro-abortion terrorist group Jane's Revenge took responsibility, and just one week later vowed to increase the violence. Two days before that, NY Gov. Hochul added insult to injury, calling pro-life people Neanderthals and signing a bill investigating pro-life pregnancy centers rather than the arsonists. Despite a pro-abortion crimewave of over 59 attacks on pro-life organizations rolling over the nation, Federal, State and local law enforcement have issued no reports and have made no arrests.
And while the firebombing was a cowardly punch in the mouth, the church through CompassCare got right back up, dusted ourselves off and went back to the life-saving work. Having sustained catastrophic damage, the office is out of commission…for now. But the people of God would not have CompassCare homeless. Services were back up and running in an alternate location the VERY NEXT DAY!
The next step is to rebuild the breach in the pro-life wall to help even more women have their babies. CompassCare is going to take this opportunity not just to rebuild, but to Rebuild Bigger, providing the opportunity to save even more souls, both women and their preborn boys and girls for the kingdom of God.