For Immediate Release: May 3, 2014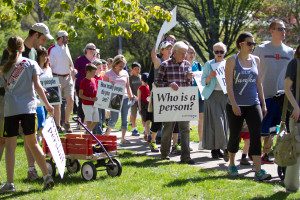 Contact: Jim Harden, President | president@compasscare.info | (585) 820-7229 | @compasscare
1000 Pro-Lifers Rally at Highland Bowl
Rochester, NY— Over a 1,000 pro-life people from the Rochester area, representing scores of churches from both Protestant and Catholic traditions are expected to converge on the Highland Bowl this Saturday May 3rd at 9 A.M. The purpose of their gathering is to celebrate the dignity of women and the personhood of preborn boys and girls. Over the last 15 years thousands have gathered for the annual Walk for Life, the largest benefit Walk of its find in New York. It is hosted and promoted by local medical pregnancy care provider, CompassCare.
In the shadow of Governor Cuomo's recent re-commitment to abortion expansion, CompassCare's Walk for Life is expecting record turn-out. The Walk has always represented the largest ecumenical display of unity in Rochester every year. CompassCare is calling people everywhere to "Take up the cause" (Isaiah 1:17) to Dignify Women and Defend Babies.
The 2013 Walk raised approximately $167,000 in funds for CompassCare, and the 2014 Walk is on track to break that record. The 2014 Walk for Life fundraising goal is $247,000, which will enable CompassCare to increase the number of women they serve by 100%.
CompassCare is a non-profit organization dedicated to erasing the need for abortion, facilitating the delivery of baseline pre-natal visits for women facing unplanned pregnancy as well as STD testing and treatment for both men and women. CompassCare's patient satisfaction rating is a 9.8 out of 10. "We are proud of the fact that women feel like they are treated with dignity and respect at CompassCare," said President James R. Harden, M.Div.
"Women most often have abortions because they feel stuck, trapped, like they have no other choice. CompassCare provides women with the freedom of true choice: when a woman feels empowered to make the most difficult choice—to have her baby—then she is truly free to decide," said Harden. "Treating a woman with dignity means we support her autonomy and trust her with all the information about her options. If she decides to abort after that, well then, it's a truly free decision, isn't it?" Harden went on to say that, "When women feel supported with the information and care they deserve, most of the time they carry their babies to term."
For the 2014 Walk for Life, CompassCare is making the connection between slavery, human trafficking and abortion. Black slaves, trafficked girls, and the preborn all have one thing in common: their personhood has been denied. When personhood is denied, people become nothing more than objects to be used for the whim of the powerful. A child in the womb was denied personhood status by the Supreme Court in 1973, paving the way for abortion on demand. Harden commented, "It is incomprehensible that one person or group of people should be able to deny the personhood rights of another human being. What's to keep that same group of people from changing the definition to exclude other groups from the rights of humanity?"