Serving Women in a Post-Roe America
Objective: Serve every woman in America considering abortion with a telehealth appointment before they buy a chemical abortion online or travel to places like NY to get an abortion.
CompassCare is giving away the 21st century telehealth tools to 650 medical pregnancy centers, equipping each center to serve 1,500 women a year. This will give pro-life pregnancy centers the ability to compete head-on with the billion-dollar abortion industry by 2025.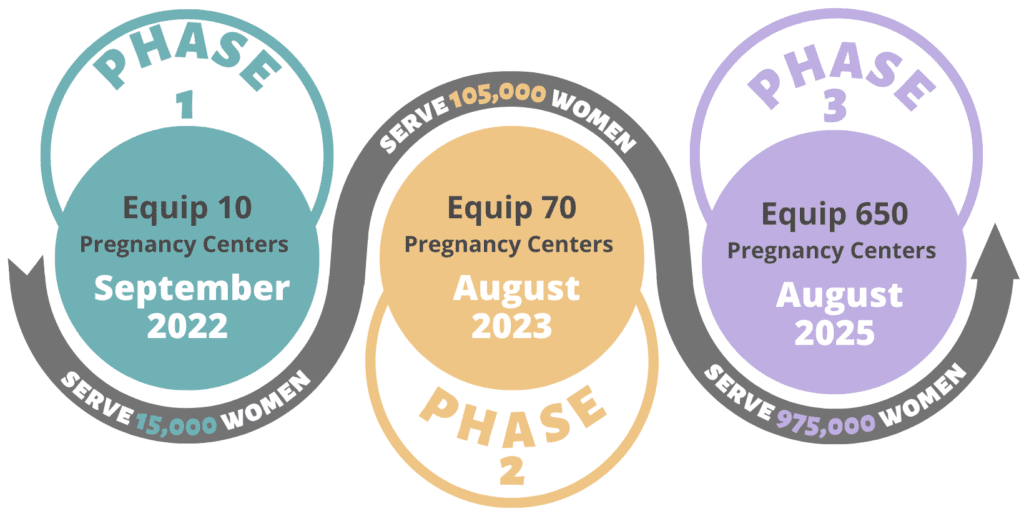 CompassCare is where technology and pro-life services combine, giving pregnancy centers the tools and training to serve more women considering abortion, helping them have their babies.
Want To Get Involved?

What Pregnancy Centers Are Saying
"Our pregnancy center has partnered with CompassCare for over 15 years. The CompassCare service model works! It helped our team serve hundreds of women who, when fully informed, independently chose life for their babies and were spared from the regret of abortion, in one of the most liberal towns in the nation."
– Betsy Gray, former Executive Director of Network Medical, Santa Barbara, CA.
"CompassCare's visionary leadership and strategic continuous improvement approach significantly boosted Clearway Clinic's effectiveness by 60% over the last 5 years, more than tripling the women we've served and the lives we've saved."
– Kelly Wilcox, Executive Director of Clearway Clinic in Worcester and Springfield, MA
Why CompassCare?
CompassCare has earned a national reputation for helping pregnancy centers increase their service capacity and overall performance in helping abortion-minded women have their babies.
| | |
| --- | --- |
| 2002 | First medicalized Pro-life pregnancy center in NY. |
| 2004 | CompassCare began training pregnancy centers in NY and the nation to restructure and improve performance. |
| 2005 | Pioneered a now nationally accepted philosophy of ministry in the pregnancy center movement: a data-driven continuous improvement system called a Linear Service Model. CompassCare created the first patient database for service delivery with metrics to evaluate service performance and analyze targeted service delivery changes for continuous improvement. |
| 2007 | Created a training system to help other pregnancy centers nationwide serve more women more effectively by implementing CompassCare's systems. |
| 2012 | Open-sourced patient service systems. Now an estimated 650 pregnancy centers nationwide are using CompassCare's language or service systems to some degree with several organizations attempting to replicate the concepts on their own. |
| 2015 | Launched medical process management software, Optimize, to help pregnancy centers actively engage continuous improvement in services for women seriously considering abortion. |
| 2018 | The New York State Abortion Reduction plan was initiated as CompassCare began building pro-life infrastructure across the state to handle increasing demand through abortion tourism. |
| 2020 | CompassCare launches TeleCare operations, building effective processes to help women pursuing abortion online choose to continue their pregnancies. |
| | |
CompassCare is ideally situated to stay on the leading edge of service. New York is an aggressively pro-abortion state with the more permissive abortion laws and higher abortion rates per capita than any other state in the Union. CompassCare has a track record of overseeing the abortion numbers cut in half while the abortion industry scrambles to stay afloat by diversifying services, reducing staff, consolidating administration, and simply going out of business.