Thank you to everyone that helped make CompassCare's move into the new office space a reality. CompassCare saw patients till the end of the day Friday, moved Saturday, and saw patients Tuesday morning!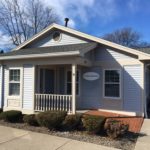 On the first day of patient services in the new office, there were a total of four pregnancy patients - all of whom were thinking about or planing to get an abortion before coming to CompassCare. ALL FOUR have now stated their intention to continue their pregnancies and two of them prayed to receive the Lord! Rejoice with us in these wonderful changes of heart and lives saved.
Thank you once again for the prayers, generosity, and energy you gave to see that CompassCare could smoothly transition into the new space and continue to erase the need for abortion without interruption. If you are interested in seeing the new office, please sign-up for one of three Grand Opening Tours on:
    - Saturday, April 1 from 9:30-10:30 AM
    - Tuesday, April 11 from 7:00-8:00 PM
    - Thursday, April 20 from 7:00-8:00 PM
Come see CompassCare's new office, hear the story of God's provision, and rejoice in the lives being saved at the new facility!
Goal:
$73,600
Received:
$130,490
Professional Space
A clean, comfortable, and professional medical space is crucial to serving patients at-risk for abortion. The recently remodeled, 4500 sq. ft. facility provides CompassCare with nearly twice as much operational space and a more updated clinical environment.
Accessibility
The new location is incredibly accessible to the patients CompassCare serves. The office building is situated only one mile from CompassCare's current location, just south of the U of R and just north of MCC. Also, there is a bus stop right outside the office complex and all the major abortionists in Rochester are within a four mile radius of the new location.
Sustainability
The purchase of this property will help safeguard CompassCare's mission for the future. CompassCare will save a significant amount of money on an annual basis, freeing up more money for direct mission services.